The Crippled Lamb
Theatrical Release:
December 1, 1999
DVD Release:
December 9, 2000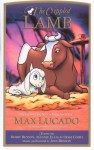 Synopsis
Originally "The Christmas Lamb" aired on PAX. To be in the right place at the right time…Nothing's more special…When God has a plan for you! Old Asah knew this well, and when it came time to teach young Benjamin Goat about life, the old story-telling camel told a tale of little Joshua…a Crippled Lamb who always felt left out. Joshua longed to keep up with the flock, but God had a very special plan for him – just as He does for everyone. One cold winter night, Joshua was in the right place at the right time to watch history's greatest event unfold…and to play a part in it. Fully animated, it features some of Hollywood's premiere voice talent, including Robby Benson (Beauty and the Beast) and Jodi Benson (The Little Mermaid).
Dove Review
A little lamb named Joshua is born with a birth defect and is very unhappy because he can't run and play with the other lambs. He has to stay in the barn where he is safe.
This is a cute animated cartoon featuring talking animals. As Joshua searches for God's purpose for him, he discovers it on the night that God's son, Jesus, is born. This is a great story that's very entertaining while teaching children the Lord has a plan for everyone no matter how different they are. He has a purpose for everyone. This DVD is awarded the Dove "Family-Approved" Seal. Enjoy the songs which are included in the story!