Arthur: D.W. the Picky Eater
Theatrical Release:
June 4, 1998
DVD Release:
June 4, 1998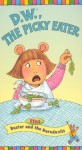 Synopsis
D.W. the Picky Eater – It's wrong to call D.W. a picky eater; just plain wrong. The only things she won't eat are vegetables, fish, fruit and meat. So it's not her fault when she has a tantrum in a restaurant after someone tries to slip her some spinach! Is this the end of D.W.'s nights on the town? Will she miss Grandma Thora's birthday bash?
Buster and the Daredevils – Arthur and Buster meet two really cool kids and, naturally, are dazzled by them. Toby and Slink agree to teach Buster some skateboard tricks, but there is one small catch – he has to do whatever they dare him to. How far will Buster go to be cool?