Baby Einstein: Baby da Vinci – From Head to Toe
Theatrical Release:
October 25, 2004
DVD Release:
October 27, 2004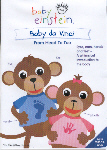 Synopsis
This film is a playful and engaging introduction to the body for babies and toddlers. Little ones will learn to identify their head, shoulders, knees, toes, and more in three languages. This fun interactive exploration features delightful puppet shows, real images of children and animals, and famous paintings set to the beautiful music of Bach, Morley and Vivaldi.
Dove Review
The "Baby Einstein" films always show delightful illustrations for babies and toddlers and this has Dove's full approval. It does a great job of showing different body parts like eyes, ears, mouth, etc. with pictures and children's faces. Showing the spelling and pronunciation of each part in Spanish and French along with English is very educational.