Baby Chatterbox: Developing Early Speech Volume 1
Theatrical Release:
December 9, 2004
DVD Release:
December 20, 2004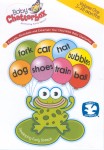 Synopsis
The first 36 months of life are vital to a child's long-term intellectual, social and emotional growth. We approach education by presenting fundamentals in a manner that is enjoyable for both you and your child.
Baby Chatterbox videos introduce your little one to colors, music, objects, motion and words in an effort to educate, stimulate and entertain. Our videos help infants and toddlers develop cognitive skills, form sounds and words, categorize objects, learn word meanings and establish early speech patterns. But best of all, they make infants giggle, moms and dads chuckle and older siblings smile.
Dove Review
This video is very educational for your tots 3 months to 36 months. Using pictures and word repetition, it will help with your little one's vocabulary. This video is a great way to keep them entertained and teach them words at the same time.