Creation Adventure Team: Six Short Days, One Big Adventure
Theatrical Release:
May 16, 2005
DVD Release:
May 16, 2005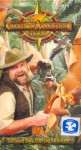 Synopsis
The Creation Adventure Team embarks on an unexpected adventure when they use amazing new inventions to help a student with her science report. Buddy and friends reveal the wonders of the six days of creation, with the help of the hilarious ABC Cam, showing that the universe is the work of God and not millions of years. It all makes sense when the class looks through "BR" glasses.
Dove Review
From a submarine deep underwater to an airplane high above the earth, Buddy and his team are out to find adventure. Biblical reality glasses reveal the unseen biblical truths about God and the world around us. This kid-friendly series combines live action with cutting edge special effects, animatronics, and 2-D and 3-D animation. Every episode is accompanied by fun songs and tons of humor. "The Creation Adventure Team" features real-life dinosaur expert and recording artist Buddy Davis. Buddy has dug up duckbill dinosaur fossils in Alaska and recorded several Christian music albums, but he is probably best known for his life-sized dinosaur models. It's a fun and informative movie that we recommend to kids everywhere.
Info
Company:
Gospel Communications Intl.
Industry Rating:
Not Rated