CS Lewis: Beyond Narnia
Theatrical Release:
December 9, 2005
DVD Release:
March 28, 2006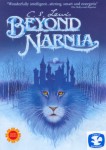 Synopsis
Readers and fans worldwide know the land of Narnia and the magical beings who dwell there. But few know the genius who created this beloved fantasy. Now meet C.S. Lewis, an extraordinary creative force, in this engaging true story filmed in Oxford, England, where he lived, worked and imagined "The Lion, the Witch, and the Wardrobe" and the other tales that make up the beloved "The Chronicles of Narnia."
Dove Review
We all know the works of C. S. Lewis, but this is his life story. It is an enlightening story narrated by C. S. Lewis (Anton Rodgers) about the author's life, and shows how certain events lead to his writings. "Beyond Narnia" tells of the struggles he endured in his life regarding his faith because of those events.
Due to some of the content, I recommend "Beyond Narnia" for older children.
Info
Industry Rating:
Not Rated