King and Queen of Moonlight Bay
DVD Release:
June 5, 2007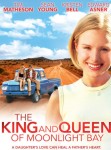 Synopsis
Before leaving for college, Alison Dodge (Kristen Bell, "Veronica Mars") travels to the Arizona desert to visit her estranged father who abandoned her when she was six years old. Her father, Al (Emmy® Award-nominee Tim Matheson, "The West Wing") is a solitary and emotionally withdrawn man who spends his time working as a handyman and is shut off from the world around him. Five-time Golden Globe® Award-winner Ed Asner ("Lou Grant") plays retired English teacher Auggie Sinclair, who tries to show Al that it's not too late to become a real father to Alison. But can a damaged man overcome years of isolation to become the father his daughter needs him to be before it's too late?
Dove Review
This is a story of rekindling a father and daughter relationship. In this story two people, who don't really know each other, bump heads although they are related. Alison and her father are in the situation of being strangers because of many, many years of separation. At times it becomes a battle of patience and love. It is a very interesting story to watch as the relationship inproves. But unfortunately, due to sexual content and language, this movie cannot be awarded our Dove Seal. See content table below.
Info
Industry Rating:
Not Rated