Trekkies 2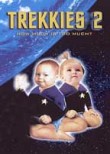 Synopsis
As promised, the sequel to Trekkies presents an expanded universe of Star Trek fandom, and even curmudgeonly Klingons will enjoy this globetrotting trek of discovery. NextGen alumnus Denise Crosby returns as host of this sincerely appreciative survey of Trek enthusiasts from the U.S.A., Germany, England, Australia, Italy, Brazil, France, and even war-torn Serbia. Director Roger Nygard seizes the opportunity to revisit the most memorable fans from Trekkies, and Trek savants the world over will be delighted to learn that über-nerd Gabriel Koerner is not only married but happily employed as a digital-effects modeler (go, Gabe!), while Whitewater juror (and Starfleet Commodore) Barbara Adams continues to exemplify the Prime Directive in Little Rock, Arkansas. Emphasis is duly placed on the charitable activities of Trek devotees (yes, the Trekkies/Trekkers debate continues to rage), while "filk" singers and Trek tribute bands are given props for their musical inspiration. Most importantly, Trekkies 2 meaningfully explores of the motivation, purpose, and appropriateness of Trek fandom in a world that is still light-years away from the benevolent idealism that Star Trek represents. Trekkies 3 (due a few years later) promises to expand the survey to Asia, Africa, India, the Middle East, and Russia. Could this be the start of genuine unification?
Dove Review
This sequel to the first "Trekkies" film is very similar to the first one but includes some trips to foreign lands including Germany, Brazil and Serbia. Unfortunately, unlike the first film, we are unable to award our Dove "Family-Approved" Seal to this one. There were a few sexual innuendos in the first "Trekkies" but this one includes some strong sexual comments and a song with sexual lyrics and it crosses the line of our acceptability so we can't approve it as a family-friendly film.
There are some good moments in this film, including the stories of Trek fans who have helped charities and helped with prescriptions and the funeral costs for a dying child. The Trekkies seem to be very accepting of people with their various personalities and quirks. It's too bad we cannot award it our Dove Seal.