Creature
Theatrical Release:
September 9, 2011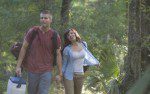 Synopsis
An ex-Navy seal (Mehcad Brooks), his girlfriend (Serinda Swan) and their friends head out on a road trip to New Orleans. The group decides to stop at a roadside convenience store owned by Chopper (Sid Haig), who tells them the tale of Lockjaw, a fabled god-like creature who is half-man, half-alligator.
The legend has it that an inbred local man by the name of Grimley (Daniel Bernhardt) lost his family to a monstrous white alligator, which then drove him to madness and some believe he was transformed into that very creature that now haunts the depths of the swamps. Their curiosity peaked, the group decides to play along with the local tourist trap and journey deep into the backwoods to find the old dilapidated cabin which is supposed to be the birthplace of the creature.
Dove Review
Effective January 1st, 2009, The Dove Foundation Review Team has ceased reviewing all NC-17 rated movies and certain extraordinarily explicit R-rated films. This decision was reached due to the fact that Dove reviewers are parents or grandparents with conservative values. As such, we feel that we can no longer expose these dedicated and caring people to movies that contain distasteful and appalling stories that are focused on graphic horror and violence, and/or gratuitous depictions of explicit sex and nudity. "Creature" is considered to be such a film. Our report is therefore limited to the business information (title, rating, distributor, producer, director, actors, etc), synopsis, and the content chart.
Content Description
For an explanation as to why there is no content description for this film, please see the Dove Worldview section.
Info
Company:
Lockjaw Productions
Writer:
Fred Andrews & Tracy Morse
Reviewer:
Edwin L Carpenter