Gerald
DVD Release:
December 1, 2010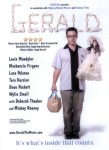 Synopsis
Gerald Andrews was dropped on his head at birth. 30 years later, the man-child, Gerald, works at the local bowling alley and lives with his mother in a mobile home park. When his mother suddenly dies, he finds himself still needing her close, and has her ashes placed inside her favorite ceramic doll, which he carries with him everywhere. With the help of his mother's eclectic friends, Gerald is coping, until the day the valuable doll is stolen. Gerald desperately searches for his mother's ashes. When Gerald finally finds the thief, he enlists the help of his friend, Helen, to get the doll back. During the heist, things go awry when Helen is taken hostage. Gerald must decide between his mother's ashes or Helen's life.
Dove Review
"Gerald" is an off-beat comedy that centers around a deceased woman's ashes being dumped out and how her son puts her ashes in a doll and carries it around and refers to it as "Mom". People who don't know about the ashes get a bit confused. The actor who plays Gerald, Louis Mandylor, plays him as an easy-going and likeable man who is a bit on the slow side, due to having been dropped on the floor by his doctor (Mickey Rooney) when he was first born.
Although the movie shows people looking out for Gerald, especially when his mother dies, and a young woman named Helen falling in love with him despite his slowness, it also features a transvestite and her male companion and several double entendres and sexual innuendos and many of our Dove viewers would be a bit uncomfortable during parts of the movie. At any rate, it contains strong language and cannot receive our Dove "Family-Approved" Seal.
Info
Industry Rating:
Not Rated
Reviewer:
Edwin L. Carpenter