Little Brother, Big Trouble: A Christmas Adventure
DVD Release:
October 12, 2013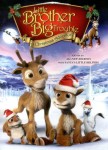 Synopsis
On Christmas Eve, Niko the young reindeer must find his little brother who has gone missing. But in order to save Christmas, it's going to take a lot of help from Niko's friends in order to save the day. While on his epic journey to save his brother, Niko learns the importance of friendship and family, in this heartwarming Holiday tale that all ages will enjoy.
Dove Review
Niko is Prancer's son and his family is changing. He is unsure that he likes the changes but he learns the meaning of family when his "new" little brother is taken by the eagles.
This is a charming movie. But most important it helps children understand about a changing family. Prance no longer lives with Niko's mom. She has a new Buck in her life who also has a young son making Niko a big brother to Johnny. But Niko is not willing to accept this new change or a new little brother until he has to save Johnny from danger. Along the way he learns many things with the help of a retired reindeer. An interesting film for young and old as it teaches about the acceptance of a new family. We are proud to award this movie the Dove Family Approved Seal for all ages.