God & Salsa (2019 manuscript)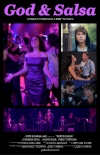 Synopsis
A grief-stricken therapist determined to help a suicidal teen regains her faith in the process with the help of her salsa dance instructor and pastor.
Dove Review
A velvety rich drama, "God & Salsa" is the embodiment of Ecclesiastes 3:4, "there is… a time to mourn and a time to dance."
The film centers on Raquel, a divorced single mother in her 40s, reeling from the loss of her daughter. Enter Shane, a disgruntled teenager whose parents are in the midst of a nasty divorce. In the beginning of the film, Raquel and Shane's individual stories are told artfully and overlapping – their stories are similar, but on opposite ends. Both seeking answers, both angry, both hurting; yet, completely different people in different phases of life. Their stories come together when Shane and Raquel become connected, and in a beautiful, heartbreaking collision, their two stories become one. Shane and Raquel are about to change each other's lives, with a little bit of help from a father who won't give up, a dance studio, a wise elder nun, and a sermon.
I knew God & Salsa was going to be incredible by the time I got to page 30. Not only is it ethnically diverse (something I love to see in faith-based films), but it's just a downright beautiful story. Why, you may ask? Because these two polar opposite people each have what the other needs. He receives someone who listens, someone who sees his struggle. She receives a second chance, an opportunity for closure. How often in life do you meet someone who understands exactly what you're going through because they've lived it?
In addition to the Shane/Raquel plot, God & Salsa offers a plush storyline that keeps viewers entertained and moving throughout the film. Devastated by grief, Raquel finds solace in dance—salsa to be more specific (hence the title), which offers a little relief from the otherwise heavy subject matter. God & Salsa offers a dramatic, entertaining film with heartbreaking characters but delivers on its Ecclesiastes 3:4 promise.
Does the film deal with very tough themes? Sure. But it's needed in the faith community and I applaud the writer(s) for stepping up to the task and handling it so well. My only caveat would be that it seems like Shane never gets to speak because everyone else is doing the talking. Other than that, all the characters seem well-developed and easy to watch. Divorce, suicide, grief, parental alienation are important topics, and the film does a great job of handling them in an entertaining, yet meaningful way. With that in mind, "God & Salsa" has been given the Dove Seal of Approval for Ages 12+.
The Dove Take:
"God & Salsa" is a velvety rich faith-based drama about two broken people who become something beautiful in each other's lives.
Content Description
Faith:
A strong female lead struggles with her Christian faith but eventually rebounds; a pastor's sermon is woven into the story; a church member relentlessly loves her struggling friend.
Drugs:
Adults drink wine and liquor in some scenes; teenagers smoke marijuana and drink; a young man overdoses, and in another scene attempts to again but is stopped.