Pride and Prejudice (2005) – Filtered
Theatrical Release:
November 22, 2005
DVD Release:
February 28, 2006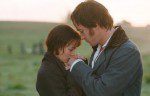 Synopsis
Based upon Jane Austen's beloved novel, Pride and Prejudice tells the tale of the five Bennet sisters including the clever, willful Elizabeth (Keira Knightley), the handsome, elegant Jane (Rosamund Pike), and the impetuous, rebellious Lydia (Jena Malone). The Bennet family may lose their home if their girls don't marry well, and bright prospects appear when a wealthy bachelor and his friend, Mr. Darcy (Matthew Macfadyen), move into the nearby mansion. Elizabeth immediately clashes with Mr. Darcy, finding him haughty and of suspect moral character in Austen's classic battle of the sexes, and of the classes.
Dove Review
This is the best film I have seen in a long time with great acting and a great love story. This film makes the viewer long to have lived in the 19th century. Ms. Elizabeth kept this reviewer smiling, waiting for her next remark, This was a very clean film with only one kiss, at the end of the film and it was between a married couple. Great Family Film!!!