Cheaper By The Dozen 2 – Filtered
Theatrical Release:
December 21, 2005
DVD Release:
May 23, 2006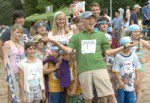 Synopsis
The Bakers are back…BIG time! America's favorite movie family returns in CHEAPER BY THE DOZEN 2. Only this time, they're going toe-to-toe against another clan in the ultimate inter-family battle. The entire CHEAPER BY THE DOZEN cast reunites, including Steve Martin, Bonnie Hunt, Hilary Duff, Tom Welling and Piper Perabo, and they're joined by a new family, headed by Eugene Levy. Bigger scale, more laughs, ramped-up action – and lots of heart – are the hallmarks of the Bakers' new adventure.
In CHEAPER BY THE DOZEN 2, Tom Baker (Steve Martin) and wife Kate, hoping to bring their family together for a memorable summer vacation, take their twelve offspring to rustic Lake Winnetka, Wisconsin – their longtime family vacation home. But their retreat soon turns cutthroat when they enter into a competition with the over-achieving members of a large family headed by Tom's longtime rival, Jimmy Murtaugh (Eugene Levy).
Dove Review
This was a humorous film taking a closer look at the Baker family. Steve Martin does a wonderful job, as usual, in his role as the father in the movie. The parents are positive role models, back each other up and stick together on their discisions. There are some humorous moments and plenty of fun for the whole family.
Info
Company:
20th Century Fox
Writer:
Sam Harper and Craig Titley
Producer:
Shawn Levy and Ben Myron