Munich – Filtered
Theatrical Release:
December 23, 2005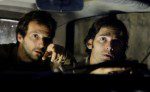 Synopsis
During the 1972 Olympic Games in Munich, eleven Israeli athletes are taken hostage and murdered by a Palestinian terrorist group known as Black September. In retaliation, the Israeli government recruits a group of Mossad agents to track down and execute those responsible for the attack.
Dove Review
Although this was a great movie and very informational about the aftermath of the Munich hostage event, it was full of adult themes that would not be good for little eyes. We cannot approve it as a family friend as the violence and drug content is very strong.
Content Description
Nudity:
People in bathing suits on beach, man in underwear, woman's bare/pregnant belly shown with a sheet barely covering her down below, man with bare chest.
Info
Producer:
Kathleen Kennedy and Steven Spielberg