The Basket – Filtered
Theatrical Release:
June 5, 2000
DVD Release:
December 11, 2001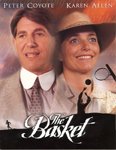 Synopsis
Martin Conlon (Coyote) arrives as the new school teacher in rural America introducing a new game called basketball. When two young German immigrants arrive in town, the schoolhouse is transformed from a playground to a social battleground. Helmut and Brigitta Brink face discrimination in a country which is at war with their native land. Despite their tender innocence, they are easy targets for ridicule. With tensions riding high, Conlon enters his young students in a basketball game against an established adult squad. In a climactic game which transends the action on the court, the community pulls together and supports Conlon's efforts, even accepting Helmut as a teammate. As the game unfolds, understanding and acceptance ultimately triumph over hate.
Dove Review
This was another "could have been" movie. It could have been really entertaining had the acting been even somewhat above average. The word that comes to mind is "hokey". But on the plus side, it was extremely clean with just a couple of minor incidents. It receives Dove's stamp of approval for content, but you'll have to be the judge for quality.
Info
Company:
North By Northwest