Akeelah and the Bee – Filtered
Theatrical Release:
April 28, 2006
DVD Release:
August 29, 2006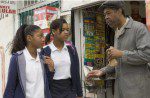 Synopsis
Akeelah Anderson (Keke Palmer) is a precocious eleven-year-old girl from south Los Angeles with a gift for words. Despite the objections of her mother Tanya (Angela Bassett), Akeelah enters various spelling contests, for which she is tutored by the forthright Dr. Larabee (Laurence Fishburne), her principal Mr. Welch (Curtis Armstrong) and the proud residents of her neighborhood. Akeelah's aptitude earns her an opportunity to compete for a spot in the Scripps National Spelling Bee and in turn unites her neighborhood who witness the courage and inspiration of one amazing little girl.
Dove Review
"Akeelah and the Bee" was a great family film and it showed how children need encouragement in order to branch out of their comfort zone. Akeelah learns that even though she is teased for being smart it is because of the other children's lack of confidence and self esteem that they treat her that way, not because she is different. There are many lessons learned in this film. The acting is good and the film keeps your attention. It is a great film for the family to sit down and enjoy.