Curse of the Jade Scorpion – Filtered
Theatrical Release:
August 24, 2001
DVD Release:
January 29, 2002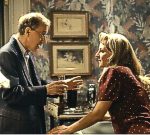 Synopsis
Woody Allen stars as C.W. Briggs, the top insurance investigator in New York in 1940 – or so he keeps telling the firm's new efficiency expert, Betty Ann Fitzgerald (Helen Hunt). Briggs prides himself on being able to crack any insurance caper by getting into the mind of the thief, but now, thanks to the hypnotic powers of a mysterious hypnotist, the mind of a thief is getting into Briggs. When it appears that Briggs has become a jewel thief, it is his office nemesis who comes to his aid.
Dove Review
This movie is full of people having affairs and one night stands while drinking themselves into a stupor. Even Woody Allen's trademark comedic style falls flat in "Jade Scorpion," with very few genuinely funny moments in the film. Of course, with most of the characters seemingly alcoholics, one man (Woody Allen) lusting after a woman (Helen Hunt) who is having an affair with a married man (Dan Aykroyd), is just one of these people's problems. It gets worse when Allen's and Hunt's characters are hypnotized (using a jade scorpion pendant), but never released from the hypnotist's control. The hypnotist then uses them to rob several mansions, because as insurance company employees, they have intimate knowledge of the hiding places of several stashes of jewels. Besides excessive alcohol abuse and extramarital affairs, there are several sexual references that are not edited by the ClearPlay player.
Content Description
Sex:
Extra-marital affair; several sexual references; men and women kiss several times; references to one-night stands; woman gropes and tries to undress man.