The Lake House – Filtered
Theatrical Release:
June 16, 2006
DVD Release:
September 26, 2006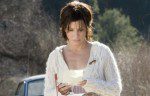 Synopsis
The movie centers around lonely Dr. Kate Forster (Sandra Bullock), who, on a winter morning in 2006, reluctantly leaves the beautiful lake house that she has been living in for a job in a Chicago hospital.
On her way to Chicago, she leaves a note for the lake house's new tenant, asking him to kindly forward her mail and telling him about the paw prints that were by the front door.
Alex Burnham (Keanu Reeves), the new tenant, however, sees a different lake house, one which was neglected, dirty, and there were certainly no paw prints. He disregards Kate's letter until a few days later; he is painting the jetty and sees a stray dog run across the fresh paint, leaving paw prints where she said they would be. He writes back to Kate, only to discover that they are separated in time by two years.
As Kate and Alex continue to correspond through the mailbox, they find themselves falling in love.
Determined to bridge the distance between them at last and unravel the mystery behind their extraordinary connection, they tempt fate by arranging to meet.
Dove Review
"The Lake House" was a pretty good movie with an interesting storyline. The plot kept my attention as I tried to figure out how the characters were going to connect while separated by some kind of time wrinkle. Sandra Bullock and Keanu Reeves have a great on-screen chemistry which makes their characters believable and captivating to watch.
There is mention of a couple living together, but there were no scenes portraying that aspect. This Clearplay version has been completely cleaned up in the language area which makes for a great watch with the older kids! "The Lake House" receives four doves from us in this nicely filtered version!