Shooting Star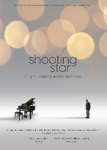 Synopsis
Fifteen-year-old Phillip Schuman has an incredible talent and love for the piano but is forbidden to play by his angrily oppressive father. He finds he must choose between happiness and peaceful existence when threatened with a final ultimatum.
Dove Review
On the surface it would appear that 15-year-old Phillip Schuman has many advantages. He attends a gorgeously posh private school, enjoys the privilege of affluence and benefits from the unmitigated love and encouragement of his mother. If it weren't for his passionate enjoyment of playing and composing for the piano, then the bullying at school, his father's hostility towards his talent and the cancer overcoming his mother might be unbearable. At school, an interested talent recruiter discovers Phillips's extraordinary musical abilities but his father menacingly forbids him to continue. When the cancer finally overtakes his unwavering Christian mother, Phillip resorts to secret composing sessions which free him in the exhilaration and expressive joy of music. Unfortunately his father discovers him opening the forbidden family piano and Pandora's Box of government social services is opened with it. Phillip is thrown into a whole new world of consequence when his father is duly incarcerated and Phillip transferred to a state home. Persevering with the memory of his mother and through his relationship with Jesus Christ, he is able to forgive his distraught father.
Superbly acted and beautifully filmed in Dutch with English subtitles,
Shooting Stars
addresses the issue of abuse, both emotional and physical, and its proclivity to be passed down. Characters are fleshed out, realistically layered with sympathy and imperfection; even Phillip's father shows love for his son, though entangled in the sad scars of generational injury. Music, especially piano, is exquisitely used to resurrect Phillip's happy boyhood memories, and through the darkness, we are glad to see Phillip as the overcomer. This film is quite pleasant to watch at times and scored with soft, melodic orchestra music. Yet, although a peripheral theme is the forgiveness of sin through Christ, some subject matter isn't appropriate for small children, earning
Shooting Stars
approval for Ages 12+.
Content Description
Violence:
Bullies throw down a boy, Phillip and Martin get into a fistfight, the father beating Phillip is insinuated, and his father destroys a piano
Info
Company:
Bridgestone Multimedia Group
Industry Rating:
Not Rated