Santa And Pete
Theatrical Release:
December 5, 1999
DVD Release:
September 23, 2003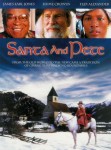 Synopsis
Nicholas Mann (James Earl Jones), the grandfather of a close-knit family, gathers his family on a snowy night. It's the first Christmas without Grandma and a difficult time for the family, until Grandpa decides to share a story with his 10-year-old grandson Terence. It's the story of Santa and Pete, a tale that has been handed down for generations. As the story unfolds, we too are transported to faraway lands and mystical events as the old world's Saint Nicholas is transformed into the modern day Santa Claus.
Dove Review
Although there are a few references to God and the "baby's birth," this is a Politically Correct story of how Santa Claus came to be. There are a few positive messages about knowing God and about being parents. The traditions of Christmas are important to every family at the holiday season. This charming story told by James Earl Jones is how St. Nicholas became Santa Claus as we know him today. With his side-kick Pete, they traveled together in the old world as well as traveled to the new world. Together they make new friends and discoveries which they share with everyone they meet.
This movie combines the legend of St Nicholas and Santa with the story of Jesus' spirit of Christmas. Everyone in the family will enjoy "Santa And Pete" and we award this film our Dove "Family-Approved" Seal for all ages.
Info
Industry Rating:
Not Rated