Doggy Poo
Theatrical Release:
March 28, 2004
DVD Release:
March 28, 2004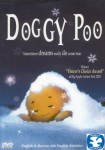 Synopsis
Everyone has a purpose…Once upon a time, little Doggy Poo lived on the side of a road. He felt all alone in the world. He believed that nobody needed him for anything, and that he had no purpose in life. If only Doggy Poo had a reason for being, then he wouldn't give up on his dream of being useful to the world.
One day, Doggy Poo meets a lovely dandelion sprout. Will she explain his purpose in life? Will she help him make his dream come true?
Dove Review
This DVD is taken from a very popular book that is well known in the East. It was the Viewer's Choice Award at Big Apple Anime Fest 2003. It contains English and Korean with English subtitles; the making of "Doggy Poo;" alternative angle color storyboards; original Korean "Doggy Poo" pilot; a music video and much more.
The main thrust of the story is that everyone has a purpose in life. It is no accident that the story has Doggy Poo looking for what his purpose is. This lesson is a good one for every child to learn. They will have a better self image and will be able to deal with life's ups and downs better by realizing that they are important and there is a purpose for their existence.
One extra feature of the DVD that I found very interesting and informative was "The Making Of Doggy Poo." The claymation is very good. This feature has English subtitles with audio in Korean.