The Park
Theatrical Release:
October 17, 2005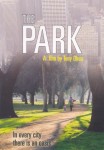 Synopsis
THE PARK is an inspiring documentary about a neighborhood city park and how its existence affects the people who visit the park and the employees who work there. The story is set in one particular city park tucked into the urban sprawl of Los Angeles, California (to symbolize urban parks everywhere) and takes the audience on a journey inside this park and what it means to the people and its surrounding community.
The film's director, motivated by an overwhelming sense of curiosity, ventures out into his own local park with a small crew, (his camera and sound man) to ask random park-goers, and a few select park employees a series of questions. The film follows this myriad of people and employees as they speak on screen of their attachments to this urban oasis.
The result is an in-depth profile as presented through a series of candid interviews and anecdotes. It's a sentimental, yet at times a humorous portrayal about life in a local big city park and how it makes a positive impact on a community.
Dove Review
Many of us drive by the parks in our neighborhoods but probably never give a thought about the people in the park, the people that take care of the park, or the activities (good or bad) that go on there. This film takes an in-depth look at these subjects. This documentary takes a hard look at who frequents our parks and what some do while they are there. Parks can be so enjoyable for the whole family and yet, there are some things that go on in them that will raise questions in many viewers. Are our parks safe? Can we do things to make them better?
There are some discussions regarding activities that take place in the park and words that may not be appropriate for the whole family while viewing this film.
Info
Company:
BayView Entertainment
Producer:
Oh! Show Productions
Industry Rating:
Not Rated
Starring:
Narrated by Tony Okun