Squibs 5: In Matter
DVD Release:
November 1, 2005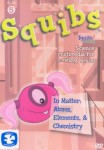 Synopsis
"Squibs 5: In Matter" introduces young learners to important science concepts. Learn about Properties of Matter, Thermal Conductivity, The Periodic Table of Elements, Atomic Bonds and more. There's even a "Tough Word" section to reinforce these concepts. This DVD contains 19 animated videos that introduce you to matter and atoms.
Children are fascinated by science questions: Why are there seasons? Why doesn't gravity make Earth fall into the Sun? How do plants use sunlight to make their own food? At home or in the classroom, "Squibs" appeals to children's natural curiosity about their world.
"Squibs" DVDs set learning in motion for 4th-6th graders, with short animated videos answering these and other key questions in Earth, Life, and Physical Science. Each DVD engages young learners with songs, humor, and animated characters, appealing to different learning styles while teaching important concepts required by Science Standards. The Tough Words section reinforces key terms and concepts the children need to know. "Squibs" DVDs teach Science in the ways children learn best – with fun!
Dove Review
Ignite! has taken teaching science in a great direction. By using music, animation, and real life film, it will keep children interested in learning. Dividing this DVD into 19 video list topics enable it to be stopped at any time to hold a discussion or answer questions. Kids will be introduced to properties of matter and atoms along with historical scientists that made important discoveries. Each DVD in the "Squibs" series takes your child on a different scientific adventure. In fact if I would have had them, I would have taken a bigger interest in science.