Like Mike 2: Streetball
DVD Release:
June 6, 2006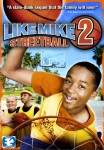 Synopsis
Die-hard hoops fan Jerome Jenkins Junior – "Triple-J" to his homies – gets no respect at the local streetball court, because he's too young, too slow, and worst of all – too short. But Jerome's luck changes when he finds a mysterious pair of old sneakers with the initials "M.J." scrawled inside. And when he puts them on, he's suddenly able to dribble, drive, and dunk like the legendary Air Jordan himself! But when his sudden rise to streetball fame threatens to alienate his family and turn his homies against him, Jerome realizes there's a high price to pay to be crowned the King of Concrete…and he just might land in the Hall of Shame!
Dove Review
"Like Mike 2" is just as entertaining as the first movie. The entire family will love it, especially if they love basketball. It is funny but has its serious side too. The film has a fantastic theme in that it shows the importance of being true to one's self and how being a team player is better not just for one's self, but for everyone. This film will also encourage kids to follow their dreams but not to let them take over so they are not paying attention to what is really going on around them. As far as warnings for the family, one player does call another one "fool." And one character is referred to as a "mean mother." Overall, this is a clean adventure film for the family.
Info
Company:
20th Century Fox Home Ent.
Writer:
Allie Dvorin and Keith Mitchell
Industry Rating:
Not Rated