Bug
Theatrical Release:
June 1, 1975
DVD Release:
September 14, 2004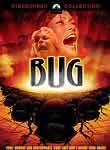 Synopsis
A devastating earthquake releases a horde of mutant cockroaches with the pesky ability to start fires. And that's not good news for a small, isolated California desert town that stands in the way of these creepy-crawlies. The whole mess begins to obsess a science professor (Bradford Dillman) to the point of madness. This ecological disaster flick, directed by Jeannot Szwarc, was legendary horror producer William Castle's final film.
Dove Review
This film, made in the mid 70s, does not hold up very well. It looks dated and, of course, a bad script doesn't improve in thirty years. It does have some very good special effects so I will give it that. However, following an earthquake deadly bugs are released which wind up killing someone close to a scientist, and the scientist begins breeding the bugs and experimenting with them. Why would he want to breed them following their attack on someone close to him? There are sequences like this which makes no sense. The language is very strong in the movie and there are some gross moments which include a cat being eaten and his exposed half-devoured head being seen. In addition a few characters are set on fire. This is not a cheery movie.
Due to the excessive language and violence, we cannot award our Dove "Family-Approved" Seal to this film. Trust us, we are doing you a favor by not recommending this one.
Info
Company:
Paramount Home Entertainment
Writer:
William Castle (writer) Thomas Page (novel)
Starring:
radford Dillman Joanna Miles Richard Gilliland Jamie Smith Jackson Alan Fudge
Reviewer:
Edwin Carpenter