Orca: The Killer Whale
Theatrical Release:
July 22, 1977
DVD Release:
September 14, 2004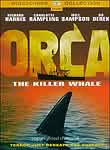 Synopsis
Neurotic whaler Nolan (Richard Harris) faces off with an enraged killer whale after he kills the whale's pregnant mate. Attempting to get a message across to Nolan, the whale attacks an innocent woman named Annie (Bo Derek), biting off her leg. This prompts Nolan and distressed biologist Rachel (Charlotte Rampling) to track the whale as it heads north, setting the scene for an intense confrontation.
Dove Review
A group of men set sail to capture a killer whale for profit. They make the mistake of capturing his female instead, and her baby dies along with her. This means doomsday for the men as the killer whale intends to have his vengeance. This is a suspenseful story at times but it features a lot of death and blood.
Despite the questions the movie raises, such as should men seek the whales for profit, and the idea of retribution by the whale species, the film includes strong language too and we are therefore unable to award our Dove Seal to the movie as a family-friendly film.
Info
Company:
Paramount Home Entertainment
Writer:
Luciano Vincenzoni (story) and Sergio Donati (writer)
Starring:
Richard Harris Charlotte Rampling Will Sampson Bo Derek Keenan Wynn
Reviewer:
Edwin L. Carpenter