Heavens Fall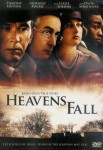 Synopsis
A tragic true story that began in the spring of 1931 when nine black men were pulled off an Alabama freight train and accused of raping two young white women. The nine young men were quickly tried and sentenced to the electric chair. News of their convictions spread, forcing an appeal to the United States Supreme Court. New York attorney Sam Leibowitz traveled to Alabama in 1933 during segregation to defend the nine young men- setting in motion a legal battle that ultimately changed the lives of everyone involved as well as the course of American jurisprudence.
Dove Review
This is a powerful true story and it is well told in this gripping drama which is endued with a powerful performance by Timothy Hutton, who plays New York attorney Sam Leibowitz. He travels to Alabama in 1933 to defend nine young black men who are falsely accused of rape. The odds are huge against Leibowitz winning the case despite his solid record in winning capital cases. But he has to contend with racism and prejudice, pretty big opponents to overcome. This became known as the Scotsboro case.
The story unfolds and we begin to learn of the unreliable testimony of the two main witnesses and of the jury selection, which includes no blacks and is a joke in how it is put together. Yet Leibowitz hammers away at the inconsistencies of the witnesses and their testimonies, and puts together a decidedly solid case in defending Haywood Patterson and the others. But will it be enough to win over a jury and local residents who are out for blood and vengeance?
Unfortunately, this film contains two strong profanities which prevent us from awarding our Dove Seal to the movie. It is a shame as it otherwise is a very well made story of an historic event. Fittingly, the film concludes by telling us what happened after the case to Leibowitz and the nine men who stood trial.
Info
Starring:
Timothy Hutton; Anthony Mackie; Bill Sage; Azura Skye; Bill Smitrovich; James Tolkan; Maury Chaykin; Joseph Lyle Taylor, B.J. Brett; Leelle Sobieski; David Strathairn
Reviewer:
Edwin L. Carpenter