"You like me, you really like me!"
by Dick Rolfe, CEO – The Dove Foundation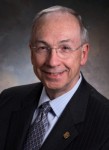 Honors, awards, certificates of achievement – everyone loves to receive one. We humans are largely motivated by a sense of what others think of us. While the Bible admonishes us to "not think of ourselves more highly than we ought," we never seem to outgrow the need for some form of peer acceptance.  With women, and especially adolescent and teenage girls, being accepted or rejected by 'the right crowd' greatly contributes to self image.  It is often said of men that we identify our worth by our accomplishments at work. Our ego plays a large role when we look in the mirror and ask, "Who is that person?"  (The older I get, the more that image starring back at me looks like my father.)
So, it's no small wonder that the people in the entertainment industry, like the rest of us, seek recognition and acceptance for personal gratification as well as financial reward. That's why there are so many trophies, awards and certificates given out for achievements in virtually every aspect of the business.
Music and movie awards and award shows every spring are ubiquitous. They are bestowed by groups representing virtually every imaginable constituency and ideology. They are entertaining to watch by those of us in the audience, looking for a vicarious thrill, dreaming of ourselves holding that little baldheaded golden trophy with the world looking on.
Financial gain is a prime motivator for putting on these multi-million dollar Awards Galas. It not only stokes the egos of the winners, but it generates incremental revenues for everyone involved. Every actor, director, writer, producer, make-up artist, cinematographer, scenic designer, composer, editor, sound engineer, special effects director, etc, who can add "academy-award-winning" to their title will reap untold financial rewards in the form of future work for hire.
The CRYSTAL DOVE SEAL AWARD is unique from the others in that it is comprised of an online ballot available to visitors of The Dove Foundation website, www.dove.org. These people are joined together by one common bond; they love good movies in a variety of genre', but within the boundaries of good taste and positive values.
We have spent the last 22 years informing, empowering, and advocating on behalf of the "Faith and Family Audience."  We've also offered advice to hundreds of grateful filmmakers who are working hard to reach this vast, underserved segment of the movie going public. And we believe that the soon to be released update of our 2005 Film Profitability Study will again show that creating and producing films that Dove can approve just makes good business sense.
Forty-four Family Approved movies were nominated from the theatrical films released in 2011 that received the Dove Seal. Over, 2,000 voters cast their ballots, and the CRYSTAL DOVE SEAL goes to…
Comedy: The Muppets – Walt Disney Pictures

Drama: Soul Surfer – Sony Pictures / Affirm Films

Adventure: Hugo – Paramount Pictures

Animated: Cars 2 – Walt Disney Pictures / Pixar Animation Studios

Documentary: African Cats – Walt Disney Pictures

Limited Theatrical Release: The Frontier Boys – Ferocious Films / Destiny Image Films
(Disclosure: I served as co-executive producer on this film but had no influence in the outcome of the vote.)
We would like to thank those of you who voted for your favorite Dove approved films. And special thanks goes to the producers of the forty four nominated films for creating wholesome entertainment that families can watch together with confidence.
The success of these "faith and family" films is not only attributable to the number of online votes they receive, but to the number of people – like you – who vote with their actions when they support wholesome entertainment by word and deed. So what do you say…why not get the family together and treat them to an uplifting inspirational movie?