Dove.org explored the Smallfoot Yeti Village in Hollywood. Here's what we found:
By Shelley Kahler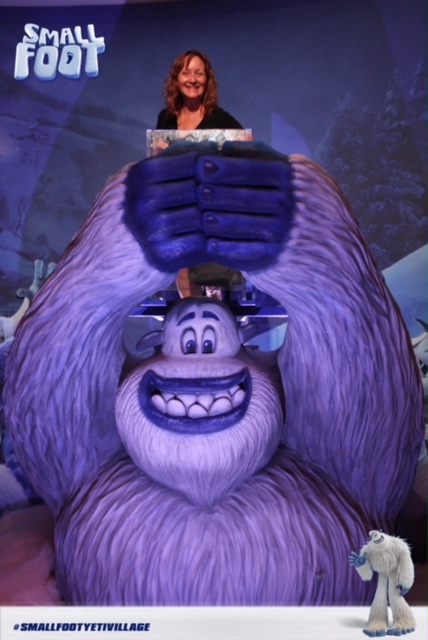 The soon to be released animated adventure for all ages Smallfoot, directed by Karey Kirkpatrick with original music, and starring Channing Tatum, James Corden, Zendaya, Common, LeBron James, Gina Rodriguez, Danny DeVito, Yara Shahidi, Eli Henry, and Jimmy Tatro is based on the legend of the Yeti or abominable snowman. However, the movie adopts a different point of view of the "myth-understanding" between yetis and humans, for it is the Yeti villagers who do not believe that humans are real – until one is spotted, which creates confusion and a search for the truth. The Warner Brothers Yeti Village attraction then provides an opportunity for us "small-footed" humans to enter a world that is very different from our own, and have experiences that are almost otherworldly as we interact with the Yeti environment.
What a treat it was to visit this two floor phenomenon that is the yeti mountain home above the clouds, especially on a very hot day in Hollywood as the inside temperature of the village is 65 degrees! It features a snowball pit, museum, 20-foot spiral slide, karaoke at the Yak Shack, arts and crafts, games, great food and treats that are kid friendly and suitable for adults as well, and photo ops with giant yetis with the end result sent right to your cell phone, just to name a few of the unique aspects of this immersive experience – all to celebrate the fun and wonder of this new film. Opening day saw a whopping 1200 visitors!
The Smallfoot Yeti Village is at the corner of Hollywood Blvd. and Vine Street in Hollywood. Admission is free, with timed ticketing available at SmallfootYetiVillage.com through the middle of September, or via walk-up line. Hours are as follows:
Saturdays and Sundays: 10:00 AM to 5:00 PM

Summer weekdays, prior to Labor Day: Noon to 6:00 PM

Back-to-School Weekdays, after Labor Day: 3:00 PM to 8:00 PM
This all new story is sure to please the whole family as it advances friendship, courage, and the joy of discovering how those who seem to be worlds apart, really aren't that different after all!
So head on over to Hollywood if you happen to be in town to immerse yourself in the fantastic Yeti Village. Be sure to keep an eye out for all the usual paraphernalia that accompanies a blockbuster of this kind from toys to T-shirts, and don't miss the film Smallfoot when it opens nationwide on September 28th.