By Jacob Sahms
Tom Shadyac believes films should have a beginning and an end that bookend each other. It's why his latest film begins and ends on a football field with an intense journey of self-discovery and human freedom in between. But for much of his film career, Shadyac was a king of comedy with hits like Ace Ventura: Pet Detective, The Nutty Professor, Liar, Liar, Patch Adams, Bruce Almighty, and Evan Almighty on his resume. After a tragic bike accident in 2007 in Virginia, Shadyac struggled through post-concussion syndrome and left filmmaking, with the exception of a 2010 documentary where he explored existential questions of faith and purpose, to teach. So what could bring him out of director "retirement"?
After an initial offer from producer Amy Baer, Shadyac met ex-inmate and NFL player Brian Banks, and discovered more of his story. "Brian's story reflected the experience of my students at the University of Memphis and LeMoyne-Owen College," the director explained. "I wanted to help make America care about my students who I cared about, and thought if audiences could care about Brian, then they'd care about the issue."
The issue in question is that of America's justice system. As a University of Southern California recruit, Banks was accused of rape by a fellow student at his high school. Charged as an adult, he took a plea deal to avoid more than forty years in prison, and found himself labeled as a sex offender. Banks' efforts on his own, and later through the California Innocence Project, propelled him toward his freedom, and a shot at playing football in the NFL. Shadyac sees Banks' story as an opportunity to show audiences that they should care what happens to their neighbors.
"We're detached as a culture," he mused. "We don't experience our neighbors in any proximity. We don't know what's going on, or how people are suffering when they're forced down the conveyor belt of the justice system which is aimed at convictions. Hopefully, we can educate people through the movie, and make some people pay more attention."
Educated at the University of Virginia, Shadyac says he received an education that taught him how to learn, to continue to learn even after he left school and wrote for comedian Bob Hope, directed films, and finally became a teacher. He cites moving to Memphis from Malibu as the moment when his eyes for a different community, a less monochromatic one, were opened. "People of color are so disenfranchised. But there is a richness and a power there. I have a passion now for helping share those stories, like Brian's."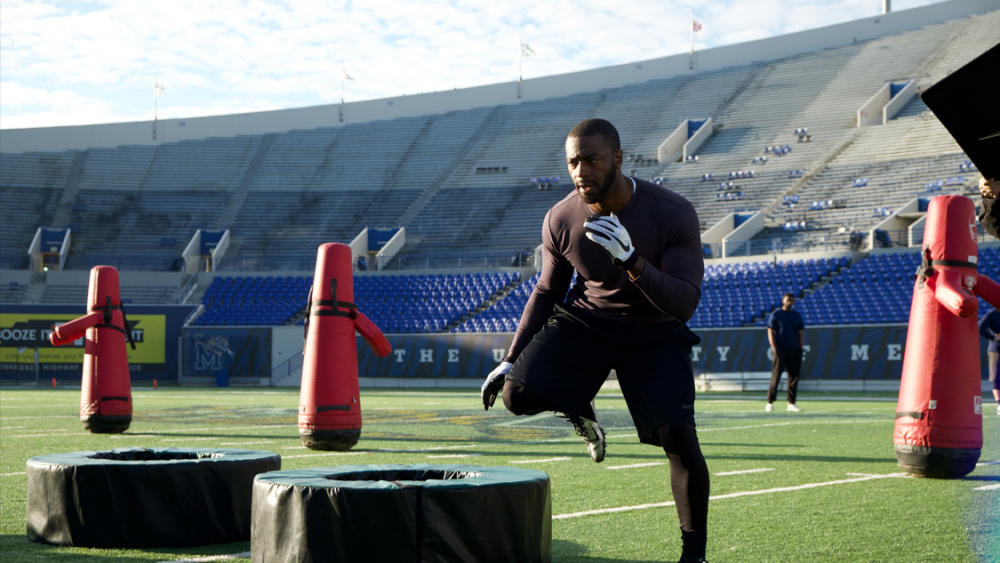 Shadyac's Catholic upbringing has impacted his sense of responsibility, and coupled with his bike accident, shown him reason to be deliberate in his actions. Raised in that Judeo-Christian understanding of God, Shadyac eschews dogmatic responses, but says that he sees power in Jesus' words and actions, a power he hasn't seen other places.
"Jesus was not with the affluent or the elite," proposed the director, "but with those who suffered. It led to such a rich life, and I am only trying to follow that trajectory, to walk a bit closer to that. It comes when we take our responsibility on, and offer the best we can to those in need."
In Brian Banks, Shadyac has lent his skill and name to a different kind of story, not a funny one, but one which can bring joy as audiences apply its truths to making a difference in the lives of those who suffer.
That would be a significant "bookend" to Shadyac's career indeed.
Brian Banks is in theaters this weekend.