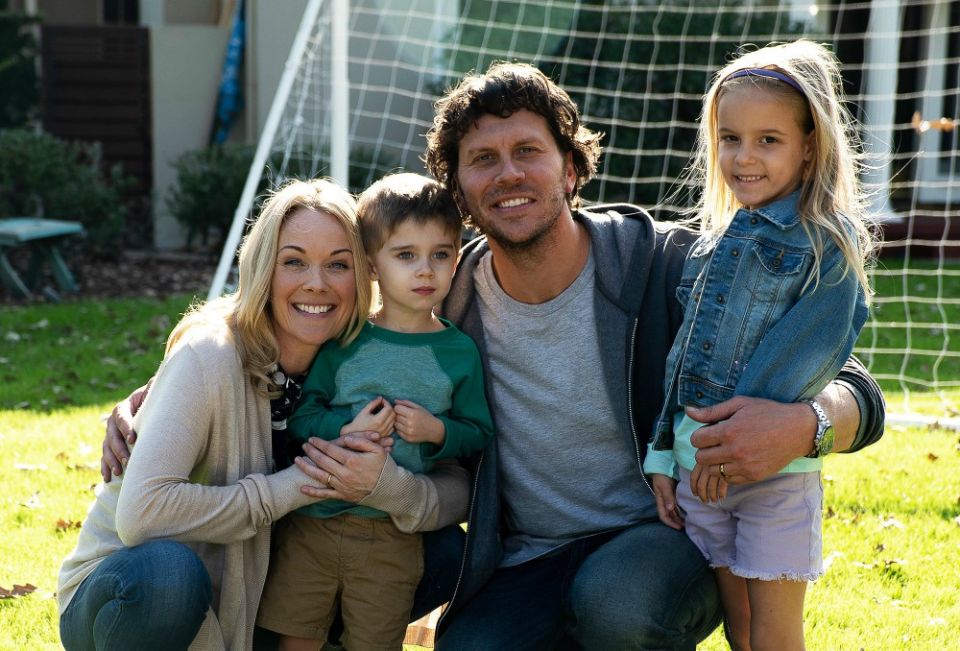 By Jacob Sahms
Catching up with Andrea Anders involves a transcontinental call, as the Wisconsin native is filming extended comedic elements with Jason Sudeikis for his "Coach Lasso" series for NBC Sports. She's resting her feet and enjoying some Oreos in her London hotel, tired from visiting every tourist spot she can in between her turns on set. The actress best known for her roles on Joey, Better Off Ted, and Mr. Sunshine is "across the pond" as her new series, Mr. Mom, debuts exclusively on Vudu.
Rather than remake the 1983 film starring Michael Keaton and Terri Garr, Vudu chose to create the sitcom as a sequel to the story, as the Andersons wrestle with parenthood and Megan's return to work. Starring with Hayes McArthur (Perfect Couples), Anders was excited to help launch Vudu's first original series, a departure from the company's previous role as a library of streaming content.
"Hayes and I have both been kicking around the comedy scene, multi-scene and single cam for some time," mused Anders. "They knew we both could do it. It came together very quickly. For me, when they said we're doing Mr. Mom, you want to say "yes!" and "okay, whatever," but I got so excited. I really liked the movie, and Teri Garr, so I was really excited that they thought of me."
Where previous generations of actors had limited opportunities to act on camera, facing choices between network television and the big screen, Anders sees that there are significantly more options now. "Programming and streaming is the Wild West right now," she proposed. "This is a format that's about to take over. Basically, it reads like a feature, because it's only 120 pages. There's a beginning, a middle and an end in the script, and a beginning, middle, and an end in each segment. What a challenge for writers to do that, putting it in bite-size pieces, so that there's something to each episode, but it flows from one to the next."
Anders has been around humor since her early years in DeForest, Wisconsin, a wealth of familial relationships she can now apply to her latest roles. She says her brother, Sean (Instant Family, Daddy's Home), is the funnier writer, and they both received their humor gene from their father. But a series of events set Anders on her path away from Wisconsin, a path her brother would later follow.
"I left home and went to college for acting, but it was after a series of three different people told me to do it," she remembered, with a chuckle. "Sean said, 'You should do something cool like drama,' so I said, 'Okay.' Then my drama teacher Jan Williams at DeForest High School said she thought I should go to college for drama, took me around to audition at different schools, and helped me get a scholarship to a good theater school [University of Wisconsin-Stevens Point]. Then when I graduated, I was going to move to Arizona to be near Sean and a friend said I should come to New York and pursue acting, and then encouraged me to get a Master of Fine Arts at Rutgers."
Now, forty-four-year-old actress is taking her lessons to sharing some insights about the roles of men and women, fathers and mothers, in twenty-first century America. It's shining a light on the way she raises her own children, and relates to the people in her life.
"Before I had children, I remember a woman telling me that the reason why men don't do enough with the children, or for the women – is because the women don't let the men do things incorrectly," Anders recalled. "I remember thinking that was interesting because she said, 'I let him put the diapers on the way that didn't work, and then he came to me and said, 'I notice when you do it, everything stays in the diaper.' When you keep telling men to do how you want it, they stop listening.'"
"In Mr. Mom, Megan Anderson gets to the point where she remembers that he's getting it done, so she backs off of her own ideas and, while she wants to help him, she lets him do it his way."
Anders went on to recount how the joke in her house involves some banter about how "daddys do it differently" or is it "daddys do it wrong"? "I think to myself that getting to the end is the point, not how we get to the end is the point. The things that cause fights in humanity – we all want joy, love, and peace but how we get there is different methodologies – that's what we fight about. Mr. Mom is about meeting at the end, and seeing that it worked out okay even if it was done differently."
Audiences can catch Anders in new episodes of Mr. Mom each week on Vudu.