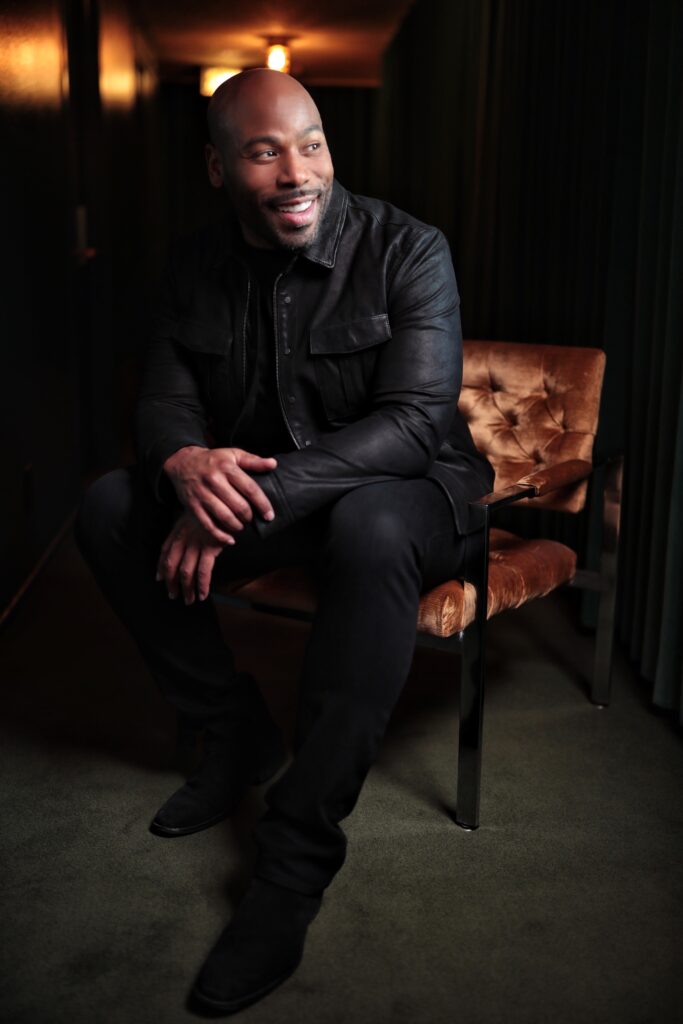 By Jacob Sahms
Anthony Evans didn't have a passion for singing yet, when the Rev. Dr. Tony Evans connected his son with a friend of his, Dr. Jerry Falwell, and sent him to Liberty University in Virginia. But his time spent there, receiving an education and singing in a public relations group for the school, showed him the intensity of working on his craft and built up strong relationships. Continuing to work on his music, Evans released six albums before his participation in the second season of NBC's The Voice, where he took his gift outside of the church. The development of his gifts, and his understanding of how to take them outside the walls, came from his father's teaching, now made evident in the new Fathom Event Kingdom Men Rising.
"My dad says we're not salt of the shaker, but salt of the earth," explained the younger Evans. We have to take the gospel outside, to create interaction on a deep level with people who are not church people. What I learned about at home and at Liberty, I learned through the Voice to use off camera."
In the new film, the Evans family (including sister Priscilla Shirer) has gathered a group of leaders to discuss what it means to be a man, to lead well, and to raise a family. Given that the senior Evans has served as the chaplain for the Dallas Cowboys and Dallas Mavericks, it's no surprise that athletic luminaries like Heisman Trophy-winner Tim Brown, Super Bowl-winning Coach Tony Dungy, NFL Vice President Troy Vincent, and former Cowboys quarterback Jon Kitna are included, or that Evans' musical influence finds Grammy Award-winners Kirk Franklin and Lecrae on film. Each of these people played a strategic role in the Evanses' life, says Anthony, proving that they have used their platform outside of the church to live in and influence culture. In the film, they speak about how to work on being a Kingdom Male, a man who has decided to allow God's word to be the defining factor of what it means to be a man, to use "God's definition of manhood to be their Biblical true north.
"We have to take our gifts, and lead with empathy and love without compromising the truth," Evans shared. "These people have not allowed culture to define them."
At the center of the movement is the senior pastor and radio show host Evans, who always modeled at home what he spoke about on stage in front of his son. "He was strategic about events," remembered the musician. "He knew events could find another speaker but his kids couldn't find another father. He'd say, 'You need to find someone else to speak, because my son has a basketball game.'"
Even as adults, the Evans siblings continue to work together on projects like the film and the upcoming tour, Fervent 2.0 in promotion of his new album Altered, that Evans will do with Shirer. "It's amazing to work together as a family because we believe in each other on a deep level," related Evans. "When my dad does Kingdom Men Rising, it's that I've watched him do my whole life, do what he says on stage at home. We know the backstory, and we know the work it takes on the project and at home."
Evans hopes that even non-believers will go see the film to learn about what it means to be a man. "If they're open, then it's a new perspective to take in. If you have a desire to be a good man, and someone has the blueprints for that, you want to see them, just like if I was building a house and someone had great blueprints for a house, I'd want to see them!"
Audiences can catch the Evans family in theaters on April 29 and 30 via Fathom Events.