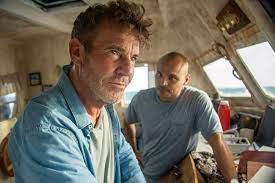 By Jacob Sahms
The son of immigrants, Jimmy Gonzales was raised in rural Oregon, moving from one foster one to another as a teenager. His father, an addict, was in and out of prison, while his mother juggled a disability and periodic custody of her children. Now, his story seems "Disneyfied" as his dreams of being an actor reach a new high next week, as the co-lead of Netflix's Blue Miracle alongside Dennis Quaid. In a real-life story-turned-film, Gonzales plays a foster father who must enter an annual fishing tournament to win the money to save the home for boys that he runs with his wife. A week before his first starring role hits, Dove caught up with the veteran actor of The Walking Dead, NCIS: New Orleans, and Mayans M.C.
When Gonzales read the script by Chris Dowling and director Julio Quintana based on the story of the Casa Hogar foster home, he found himself reflecting on the challenges in his life that had led him to this point. But the overall tone of his thoughts wasn't regret, but gratitude. "Ultimately, the challenges have become the greatest gift of my life," the actor shared. "When I got the script and the part, it gave me so much gratitude, that this was part of the reason I had the journey I did. Now, I get to give voice to that part of life that others haven't experienced firsthand."
Blue Miracle is dramatic, a mix of humor, excitement, tear-jerking moments and very directly, faith. While Gonzales hasn't spent too much time weighing the gravity of a film starring a Latino man and Latino children who save themselves, their community, and a drunk, lost sea captain (Quaid), he knows that faith is ultimately what helps them through – and gives him purpose.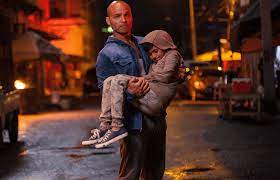 "The bottom line is that the story is about faith," he mused. "Faith is what pulls us through. As far as ethnicities and the background of the film and the story, faith transcends all of those things."
"However, this is different from the traditional stories that have been told throughout the industry on TV and film that have had white saviors. So, it is an incredible honor to represent people that look like me, to be the hero who carries the flag of faith in a spiritual context. It was an honor. I never really thought about that as I was doing it. The gravity is hitting me now."
In the process, Gonzales is playing the real life foster father Omar, who finds himself juggling a mounting financial debt to the bank, the flooding of his foster home by Hurricane Odile, and the encroaching violence of drugs and gangs in Baja, Mexico. It's what he and Quintana spent significant time talking about, in terms of the role that Omar plays in the story – the role that Gonzales was stepping into as an actor.
"Jose has three children, two boys and a girl, who are small and under ten. We talked and we explored this role of being father and what that meant to us as kids growing up," explained Gonzales. "What it meant was two different things for us growing up. Our family was affected by poverty and drugs, and my father wasn't around. Julio's was. But we shared this image of what a father was – strong, unflappable. All of these things that as adults we look at and see that they're not realistic."
"The thing that struck us was showing Omar's courage. In my opinion, courage is to move forward despite the fear, and not hide the fear. What better gift is there for us to show children and younger people than that you can be courageous in life? Life can be scary."
To play the part, Gonzales drew on the story, but he says that Omar was an amalgamation of several people in his life, like his foster dad and a close friend who has impacted his spiritual journey. But as he reflected, he kept coming back to the lessons his mother had taught him by her example, about dealing with fear, accepting and embracing it, and moving forward.
Here, in between Mother's Day and Father's Day, as he prepares to show the world what a foster dad can look like, Gonzales paid tribute to his mother. "My mother was a big part of that because she was an immigrant, had a hearing disability, and four children very close in age. She fought like crazy to provide the best possible life for us."
That's who Omar is as Gonzales portrays him in Blue Miracle. And that's why audiences will be cheering for Gonzales to continue to tell stories like this — because the example of faith in the face of fear is one that everyone can hope to follow.
Blue Miracle lands on Netflix on May 27.