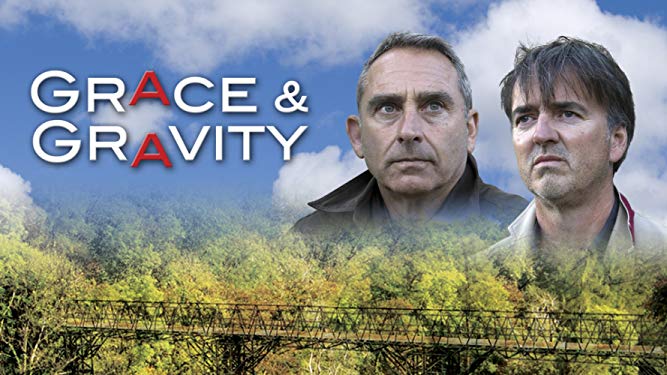 By Jacob Sahms
To understand the film passion of British film director Andrew Walkington, it's best to hear his story first. His father, first an atheist, then a Jehovah's witness, and finally a lay preacher in the Methodist church, died when Walkington was six. His mother, a Christian in name only, lost custody of her children after his father died before Christmas in 1978 in a traffic accident. Bouncing from the National Children's Home to various relatives to his mother and back again, Walkington could have become one of the children who was lost in the system. But his family stayed in contact, and over five years later, his mother made another effort.
"My mom had tried to track us down after meeting with a psychiatrist who was able to work through her problems. She threatened to take social services to court and bid for us to come home. She used the argument that we would take them to court because we had a desire to come home," remembers Walkington. "The law ended up changing in the UK four to five years later, requiring the children's perspective to be taken into account."
The family reunited in Chester in 1982, as Walkington's mother had come to decision to follow Jesus herself. She knew only one local Christian family and reached out to them, connecting with the church they led. Walkington accepted the gospel for himself at ten, and moved forward in faith.
"As is the case for young people who become Christians, I've sinned more as a Christian than I did before. God has blessed me and been with me through thick and thin. My first marriage fell apart in the same way as the character who works through it in Grace & Gravity," he explained. Quoting Joel 2, he points to the way that the Lord has restored to goodness what had been made bad, "I've had hard times but the Lord has blessed me."
Now, married to the daughter of the man his mother called for spiritual guidance in 1982, Walkington sees that they've both been through tough times, betrayal, and hurt, but that God's gracious movement brought them together. Is it any wonder that grace is at the core of his film about a doubting American Christian played by Bruce Marciano and an out-of-grace British pastor considering ending his life?
Taking the lessons he learned in theatrical production in Liverpool and Bolton, Walkington taught himself how to produce videos. With encouragement from a visiting lecturer, he founded a production company that would teach young students the ins and outs of film production on both sides of the camera. "It was the first in the UK of using students to make the films. We were reviewed in The Guardian and pricked the attention of universities; The Cooperative British Youth Club was founded. We trained people from fourteen to twenty-five in all aspects of film production. We worked with schools who trained the actors to help young people in their acting, producing, directing. Over three thousand young people were taught in any role in film production. I produced and directed 12 feature films. My career married education and film together. But I felt I was missing a key element, that people were giving me praise for the work I was doing but it felt empty because it lacked the core passion of my life which was Christ. I felt that deep desire that I should be doing more than working a job with my skills but should be effectively serving the Lord."
After meeting with the elders of his church and receiving their blessing, Walkington switched his emphasis to films about the gospel. Coming to the US in 2012, he met with a number of filmmakers and met the executives of Vision Video, including Bill Curtis and Bill Carroll. They were instrumental in getting much needed support for British film production.
"Right now, if not for American support, Christian films in Britain wouldn't exist," explained the director. "There are really no sufficient funding streams available in the UK. I have to make films that try to appeal to an American sensibility and a British sensibility. Can you be divided with a similar language? I'm never sure if things will carry or communicate. It's an interesting difficulty. As an extension of that, the budget of an average American Christian film would get, then divide it by ten and then by ten again, you'd have some idea of the British Christian film budget. It's trying to pioneer, to encourage British Christians to consume Christian movies."
"Just last year, I stood up in a church of 150 people and asked how many of them had heard of the film Courageous, and just one or two hands went up. If you want to have films that reflect your values in life, you have to watch them. It's a consumer-led market. You are what you eat. If you eat lots of burgers, you're going to get ill. If you watch lots of negative content, it's going to destroy you. We need to have much more critical sense of who we are – we need to have that attitude to the media. In terms of consuming Christian media, there's just not a lot to watch. How can you appeal to an audience that exists, and also appeal to an audience I want to appeal to?"
Citing statistics about the number of Christians in Britain, Walkington is clear that the population of evangelical Christians is significantly smaller. Instead of standing out, he's worried that Christians are marginalized, and indistinct. Pointing to examples like food banks though, he can see that Christians are "punching outside of their weight class" in terms of caring for those in need. He wants that same earmark for the way Britains think about Christian film, but knows it will take some changes.
Walkington said, "We see life where they're witnessing and sharing the gospel. We need revival. We need God to visit this place. But Christian film is not just a genre, but Christian films is a life view, that from the root up provides a different plant. That Christ, creator of the universe, has given us hope, that we trust in what we glory in – the cross of Christ – if that's the center of what we're about than the film becomes something different.
"Christian film isn't a set of sensibilities but a heart for Christ committed to film."
Check out Grace & Gravity now, and stay tuned for what Andrew Walkington does next.