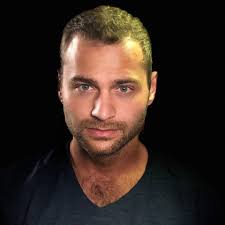 By Jacob Sahms
Switzerland's Andrea di Meglio didn't set out to be a filmmaker; he didn't even set out to be a Christian pastor. But his irregular story of experiencing God's extraordinary and powerful grace has led him to this place: he's about to help deliver the second in a series of documentaries called Christ in You about the way that people today can continue to experience and share the gifts of the Holy Spirit that the disciples did in Acts. He's convinced because he's seen God work in his own life.
Di Meglio now ministers as a member of the Vineyard Bern staff, but he didn't grow up in a Christian household. His mother, a single parent, was divorced from di Meglio's father when he was three and a half, and ended up pulling her young son into a supernatural world aimed at anything but Jesus. "My mom exploring spiritual things like witchcraft and occult. At eighteen, she had a near death experience where she was dead for eight minutes. She experienced a sense of being in the light, and wanted to be in the light. But the light spoke to her, 'you don't have access here.' So when she woke back up, she wanted to find a way back to the light, and explored all of these things."
Out on the soccer field for the local team FC Schönbühl, di Meglio met another young player, Michael Negri, who shared stories of his Christian faith with his occult-indoctrinated new friend. Off the pitch, Negri's mother ministered to di Meglio's mother at practices and during games. At ten years old, the young striker and his mother converted to Christianity, and he spent the next few years watching his mother grow in her new faith, freed from all the things she had pursued. But di Meglio's breakthrough came at the age of seventeen, out of tragedy.
"At seventeen, I was playing floorball which is the second-most popular sport in Switzerland to soccer. My goal was to be a professional floorball player and I was on the track to do that. Scouts from my favorite team were looking at me but while I was training for the under-19 World Cup, I broke my ankle and tore the ligaments. I was afraid that scouts would come and see other people instead of me. A sport specialist told me that my foot might never be the same. Even though I'd converted, I had been afraid to fully pursue and follow Him."
"Now, I was just broken before Him. It was the first time I mentioned to God that it was painful to not have a biological father in my life. I was a confused, depressed kid. [God's] presence and spirit entered the room and overwhelmed me with his love. I was weeping and confessing, saying how sorry I was for not really following him."
Diving into reading and study, di Meglio also found himself on a 2008 mission trip to Berlin, where he was trained in how to pray for people on the streets of the German city and experience healing. "I thought, 'If it's as easy to do that as he claims from stage, let's go do this,'" says di Meglio. "We saw signs and miracles. I kept doing what I did in Berlin back in Switzerland. I studied computer science for four years. But stories and testimonies would be shared about what we were doing; people started to invite me to lead teams for outreach."
Training others, di Meglio found himself in ministry at eighteen, even though he hadn't sought out a pastoral calling. Young and inexperienced, he began to recognize that others were speaking prophetic words over him, and the pastor at Vineyard Bern continued to mentor him as he had during the Berlin mission trip. Building on founding pastor John Wimber's belief that everyone could participate in the supernatural ministry, di Meglio grew to understand the way the church was empowered to do what Jesus and his disciples did.
After journeying to Bethel School of Supernatural Ministry (BSSM) in Redding, California, di Meglio studied for four years under Pastor Bill Johnson
 at Bethel Church, and continued to learn English. After two years, he returned to Vineyard Bern for work in equipping the body of Christ in healing and prophesy. He traveled to Moldova, to the Philippines, all around the world, but in 2014 on a trip to the Philippines, he and a friend Jonas felt compelled to make a film about how God was using ordinary people to do the supernatural, even though they had no filmmaking background or resources. And then he received confirmation.
"I stayed a week longer in Asia than Jonas. It was a Thursday evening before a meeting; a random Philippino woman approached me and said, 'The Lord spoke to me this morning and said that you have to make this documentary.' We'd always spoken in German so no one could have overheard us and understand. I lived with Jonas as roommates and when I returned, we talked about it, and it was obvious that the Lord was planning something."
Assembling a team, the two friends created a vision and pursued the funds and other resources to tell the first Christ in You film. They filmed and edited from 2014 until 2017, releasing it internationally to audiences. Given its success, the team felt the Lord was telling people to share the stories of how people heard God prophetically. This time, their team included more than one person with music video experience or a team watching Youtube tutorials. Even now, di Meglio says, laughing, "If I had known how much it takes to produce a film, I never would've started the first film. But the time I realized that, I was too far in."
The team went after stories of authenticity and character, like these stories that di Meglio shares two years later with emotion, in his own words.
"There's a story where they had the impression to go through the Burger King drivethrough to pray for the woman at the counter. She had head or neck pain, and she said yes I just had surgery the day before. She'd been praying for ten or fifteen minutes before her shift. She was in severe pain and they prayed and the pain left. She was undone by the presence, power, and love of God. Considering this encounter went along for many minutes, the people in line were waiting for many minutes, watching people pray and seeing their hands reaching out. That's my favorite part of the second film. How God allowed us to capture that on camera and see all of these people participate in seeing what happened."
Later, "I was part of praying for people in Brazil. We were at the mall. On the way back to the car, I saw this beautiful line on the wall. I said, 'Let's come back tomorrow and shoot here at the line.' We were five or ten minutes into praying and I was approached by a woman who said I'd prayed for her a year ago, and she shared how we knew so many words of knowledge about her life, and that everything had come to be. We were in Rio de Janeiro with millions of people and I looked so much differently [because he'd grown a beard and wore a hat to stay incognito] and she recognized me."
One last story from filming stood out to di Meglio, that of his last conversations with his mentor in prophecy, Paul Cain. Before Cain's death, di Meglio traveled twice to California to interview his friend. The first time Cain was hospitalized and filming was prevented; the second time, he filmed his conversation with Cain, a man whose prophetic gift had been acknowledged by presidents and leaders around the world, just days before Cain passed away.
Now, di Meglio recognizes the film has the power to show the way God is moving in the world, through personal stories and real people. He hopes it will continue to empower people to pursue God's movement in the world, until they too become part of what God is already doing.
For more on the film, check out the film link here.