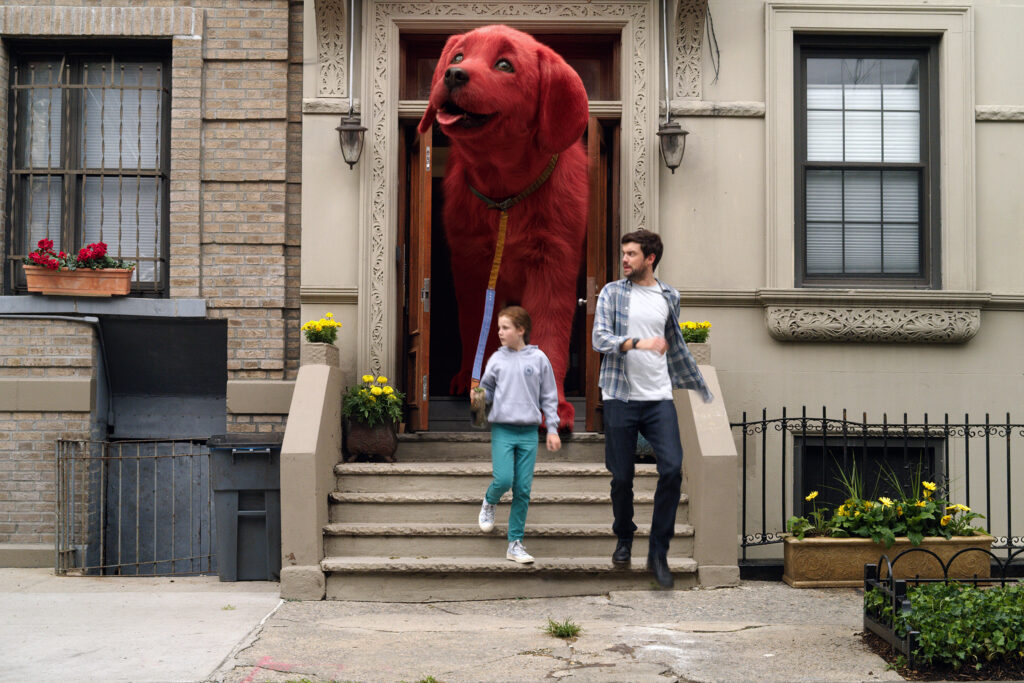 By Jacob Sahms
Clifford the Big Red Dog serves up fun for the whole family, a delightfully charming film that is bigger and better than a story created on short children's stories from Scholastic should dare to be. Maybe that's because of the story by Justin Malen and Ellen Rapoport, or the direction of Walt Becker, or the seamless integration of a CGI Clifford with real life actors. But I'll give much of the credit to the delightfully-assembled cast of human actors who carry this story about a misunderstood school-age Emily-Elizabeth (Darby Camp) who comes to realize her potential thanks to the arrival of a mysterious red runt of a dog-turned-giant dog.
E.E.'s mother goes away for work and leaves E.E. with her ne'er-do-well uncle Casey (Jack Whitehall). At the park one day, they encounter John Cleese's mysterious animal rescuer Mr. Bridwell, who gifts E.E. with Clifford, rescued from homelessness (and the pound). The next morning, Clifford is huge and life will never be the same. But in the cinematic version, Peter Tiernan's (Tony Hale) genetics company wants Clifford for study and replication, and will stop at nothing to make that happen, legally or not.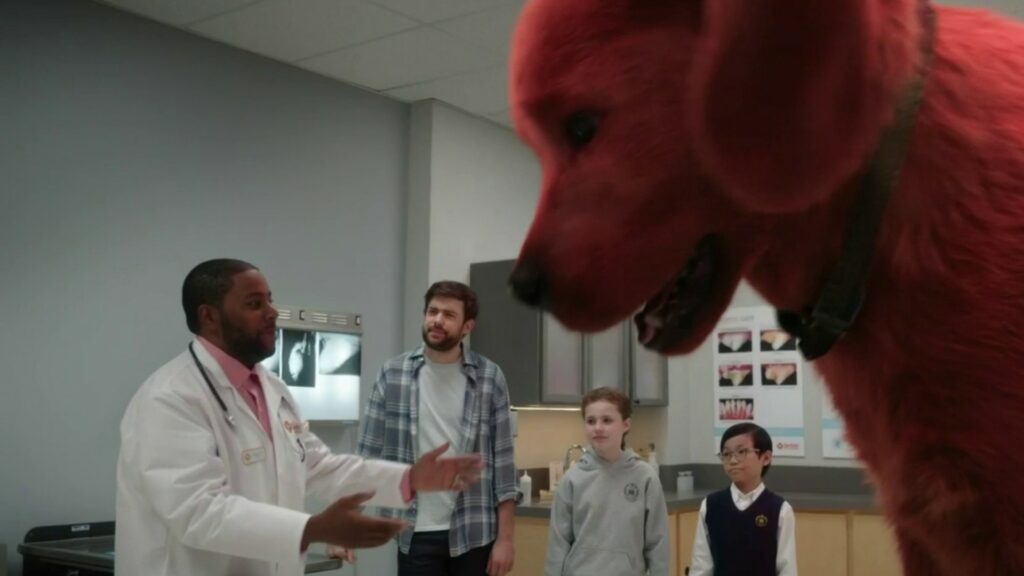 While E.E. and Casey have their human relationship to figure out, in terms of responsibility and trust, the NY City community where E.E. lives comes alive in the faces of the boy next door, the bodega owner, the veterinarian, the local lawyer, and more. This isn't just E.E. and Clifford against the evil geneticist; this is about a whole community rising up to fight for what is true, and righteous, and good. Russell Wong, Paul Rodriguez, Rosie Perez, and Kenan Thompson aren't a lot of the movie, but just the right among to give us a sense of what it means to be New York, and to stand together.
This doesn't take a lot of work to dig out: the message here is that being unique, different, and extraordinary is good, that you can be yourself in all of your one-of-a-kind wonder. And for Clifford, that's the perfect message for the big red dog and for the audience, too.
Clifford is rated PG for impolite humor, thematic elements and mild action.