WRITTEN BY: JACOB SAHMS
SEPTEMBER 6TH, 2018
Amber Hill (Lindsey Pulsipher) was a devoted wife, mother, and church choir director until the unthinkable happened: Hill's Afghanistan-stationed husband was killed by insurgents and she was left a single mother. Turning aside from her faith, Hill struggles to make ends meet, until an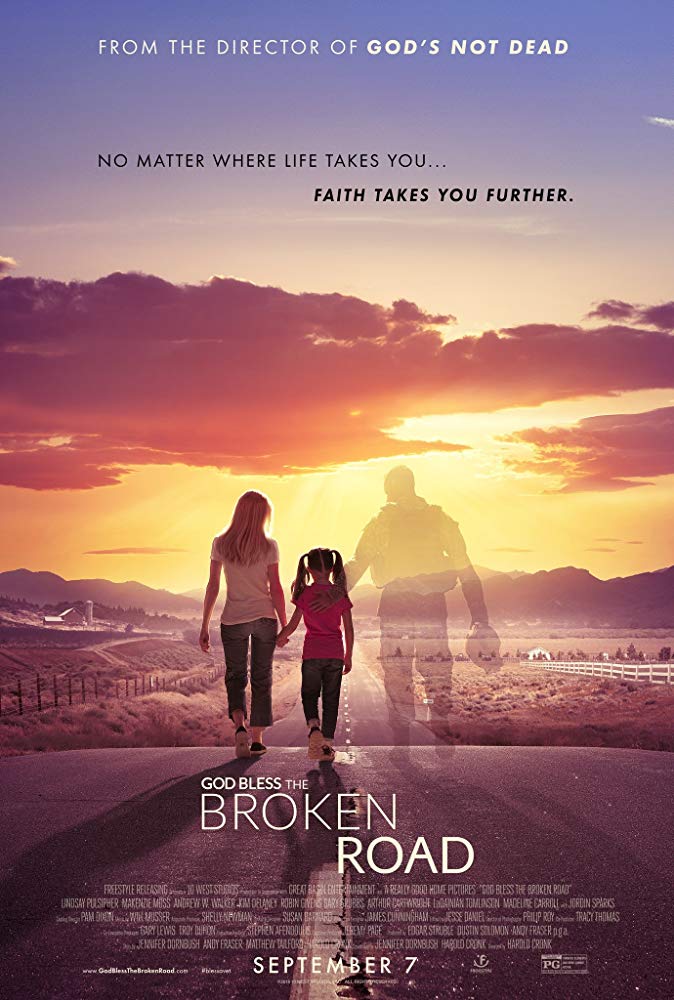 unexpected relationship leads her back to love and faith in God Bless the Broken Road. 
Race car driver Cody Jackson (Andrew Walker) shows up in town to work with race team leader Joe Carter (Gary Grubbs) and finds himself drawn to Hill and her precocious daughter, Bree (MackenzieMoss). Suddenly, the two of them find support they didn't know they had in the people who love them, namely fellow choir member Bridgette (Jordin Sparks), babysitter Hannah (Madeline Carroll), pastor Williams (LaDanian Tomlinson), and Hill's mother-in-law (Kim Delaney).
Music, stock car racing, and faith play prominently throughout the feature that has handfuls of hilarious moments, deeper ones, and a solid romance at its core. [One of the more musically-inclined moments involves Jackson and Hill enjoying the musical talents of Micah Tyler, performing his "Never Been a Moment" hit.] While the film is quiet in its approach, it has significant topics to cover that will draw audiences in, and give them plenty to think about, too.
While the relationship between Jackson and Hill serves as the backbone of the film, their time together is built on the foundational moment of Hill's husband's death. Dealing with raising a child and mourning a lost loved one adds a different dimension to the story than a run-of-the-mill romance; add in that Hill's beliefs about God's goodness have been dramatically impacted by her husband's death, and suddenly, dating looks quite a bit different. How can both Hill and Jackson respect her dead husband and build something new? How can they shape Bree's life in a way that is both healthy and powerful? What can rejuvenate Hill's faith?
Director Harold Cronk (God's Not Dead films, Unbroken: Path to Redemption) shows the real-world sadness that Hill is left to wrestle with, and the way that organically, faith can be restored (and provide healing). For fans of romances – and those looking to supplement their faith content – God Bless the Broken Road engages all of the entertainment possibilities and leaves them with some challenges. Life isn't always smooth, but with God's help, hard work, and some for-real friends, we can find ways to do more than survive – and see the joy found after the storm.
Read the dove.org review here!