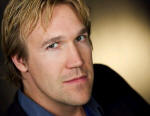 Recently I had a chance to sit down with one of the producers and actors of the new film "God's Not Dead 2" and he had some interesting things to say about the film and decisions that went into making this sequel.
Dove: "God's Not Dead 2" is even better than the first one!
David: "Ah, terrific. That's awesome."
Dove: What inspired the follow-up to the first movie?
David: "Well, we didn't want to just do a sequel to do a sequel. We've kind of been defining what is the 'God's Not Dead' brand.  As in the first one we listed around 50 court cases at the end credits that bring attention to some of the discrimination that's going on, in [some people and places who are] trying to take away our religious liberties and religious freedoms. We went around to different groups and enquired about different cases that were going on in real-life situations and wanted to build a story out of them. And that's kind of where it came from. Our writers, Chuck Konzelman and Cary Solomon, they wrote the first one, and they worked with Rice Brooks on this story. They went around and looked at different cases. We were involved in shaping the story but they really came up with it and did such a great job."
Dove: How much input did you have regarding casting and how were the choices made?
David: "Well, the casting—I'm pretty hands-on, on that. As an actor myself I've known a lot of the people that have been in our films and have a relationship with a lot of the actors. I was on a show called The Evening Shade with Burt Reynolds in the early 90s when I first moved to town, and one of the things that I loved was that Burt would literally have all these people on the show that he had worked with over the years. That stood out to me—how he just took care of them, they were like family to him. If you've seen a lot of the Pure Flix films you probably notice a lot of the same people, recurring actors in the films. We pray a lot about it. We brought back some of the original cast but we also wanted to bring in a whole group of new talent we had not worked with."
David added they had wanted to work with Pat Boone for quite a while. David had done an interview with Pat on CNN approximately three years ago and said he was just amazed at how well spoken he was. And he noted his strong faith. "I just loved his personality" said David. He had wanted to cast Pat for a time and felt his role in this film was perfect for him.
"Melissa Joan Hart—we'd heard that she was a believer and we wanted to find something for her too. So this totally fit in with her. Sadie Robertson came through from the first one, from the Robertsons (Willie and Korie Robertson), so there are different stories behind each and every one of them. The director (Harold Cronk) had worked with Ernie Hudson before and loved working with him, and we wanted to work with him."
David added that Melissa Joan Hart has become more outspoken regarding her faith and that this film is a step for her to embrace that in the public eye. He said that life imitates art and sure enough her character in the film, Grace Wesley, makes a bold stand for her faith when she is challenged by school officials for answering a Biblical question which was directed toward her by a student.
Jesse Metcalfe plays an important role as an attorney and David said he had seen him in a lot of things and Jesse's agent felt he would be good in the role and, indeed, he gives a strong performance in the movie.  "He fit the role perfectly" added David.
The release date is April 1, 2016, and interestingly enough, it is National Atheist's Day that day! The irony and humor of the release date is not lost on David.  He also said they had to pick the date approximately a year in advance. Also, there are several faith-based films coming out close to the same time and David said he believes finding a date somewhere between the others played a part in the choice of the release date.
David said he was astounded by how well the first film did at the box office and this one is simply "in the Lord's hands." He thinks people will embrace it because he believes it is better than the first one. And making it better was "really our goal." The first film's domestic box office take was over $60 million. It appealed a lot to young adults and college students.
Dove: Were there challenges in getting the film made?
David: "There were a lot of challenges. Any time you make a movie it's like going to war. There are a lot of challenges—making a movie, completing a movie is in and of itself a huge accomplishment. If you make a good movie, that's an amazing accomplishment. And then if you make a Christian film, that's an evangelistic movie, that's God. We saw a lot of warfare in shooting this movie, in all different aspects of it. I don't think we've had this much on any one film before. Certainly, I don't believe the enemy wanted us to make this film!"
In conclusion, David said the feedback from people who have seen early screenings has been amazing.  "The trailer was trending on Facebook last week," David said. "For a couple of days it was the most viewed page in the world! People are excited about it—the word is spreading." The film has received standing ovations and "nine times out of ten people are actually saying that it's better than the first one."
David said Pure Flix is working on original programming and plans to continue to make about four theatrical films a year. One thing for sure, the early buzz around God's Not Dead 2 is good news for the film.
Interview by Edwin L. Carpenter, Senior Film Reviewer
---