For two decades the Dove seal of approval has been helping families quickly determine if a movie is right for their family. People tell us that evaluating their choices has become increasingly difficult and complex in today's world, and the difficulties are for some really good reasons. Reasons that indicate our growth and our grace, and our role in culture. We're all facing questions that challenge our thinking, and movies often create the opportunity to tackle them together. Interestingly, the faith that binds us together is often also the catalyst for our toughest and most important conversations.
Dove.org offers you information and perspective from a Christian worldview. Josh Larsen wrote in his book Movies are Prayers, "we want Christians to be some of the most thoughtful conversation partners and culture makers you can find." Dove gives you a trusted source for making choices that are right for your family, and fuel the conversations that strengthen our faith journey. Movies are our culture's most accessible art form (with the exception of course of God's stunning creation), and we want you to enjoy them. We also want to encourage better films and we will have influence by how we choose.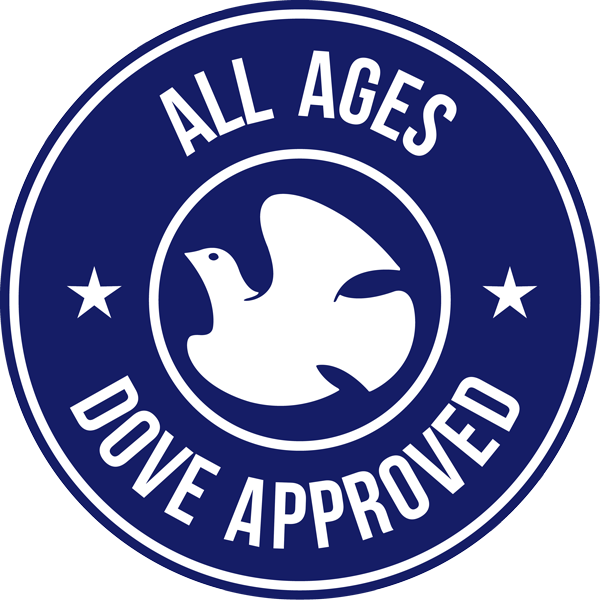 The Dove Review has two important components: The content grid and the Seal of Approval. The Seal means the movie passes the Dove test for content boundaries that we've set based on your feedback. The three levels are based on an understanding that some films aren't for the very young, and might require conversation with your older children. The 18+ Approval is reserved for more grown-up storytelling, but represent a strong faith story and an important contribution to God-glorifying conversation.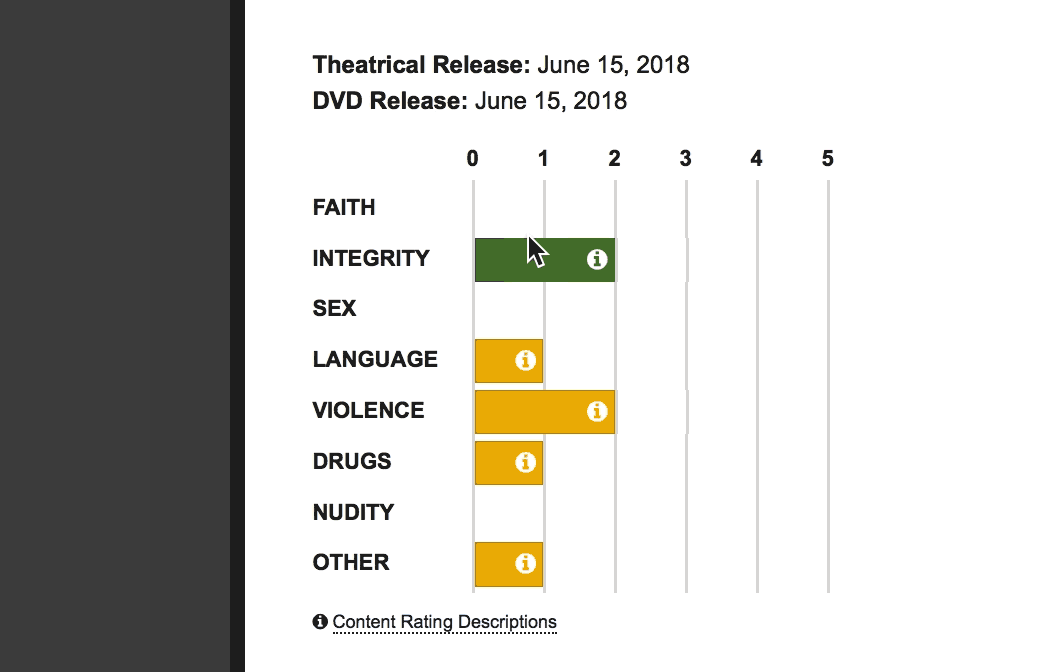 The Content Grid gives you the critical detail so that you can know the specifics, and you're equipped to choose based on your family's sensitivities and preferences. We added in measurements for Faith and Integrity because we want to shine a light on the good stuff so you can make the positive elements part of your equation. Just roll over the color bars with your cursor and the details pop up for you!
A Dove-Approval doesn't automatically mean we recommend a film. It means we've approved it based on our criteria. Our review will tell you if it's a good movie from our writers' point of view, so be sure to enjoy our wonderful writers, too.
As always, we're hungry for your input. We're developing a Dove Index to capture the input of faithful families all around the country, so stay tuned for more info on our newest initiatives. Thank you for your presence here and for inviting more people to engage with dove.org.
See you at the movies!