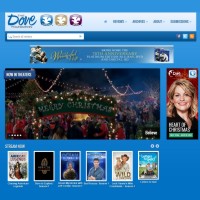 The Dove Foundation has been riding the train of cutting edge technology ever since our first hi-tech equipment purchase in 1991…a Fax machine! Hard to believe that sending a Fax was the most streamlined method of communication next to the landline phone.  In those early days, our staff faxed weekly lists of the latest Dove-approved titles to our video rental store clients, so they could put Dove Seals on the family friendly titles on their shelves. How times have changed.
In 1995, we launched our initial website, www.dove.org. During the years since, we have kept up with the latest innovations so that Dove's mission and vision remains relevant and accessible to the masses.
Skip forward to the present… We have revised and updated our website frequently to keep up with digital advances. Recently, we added several exciting new features to make data search more robust and easier to navigate. Here are a few of those innovations:
Improved Searches:
We updated our Search Engine which returns more accurate results when searching for your favorite Dove reviews.
We added new "Filmography" listings of your favorite Actor, Writer, Director or Producer.  You can access this new feature by clicking on a name listed in the Credits section of any review.
Book Reviews:
In response to requests from many of you, we've added a Book Reviews tray on our home page, directly below our film and video reviews. We have a team of specially trained literary reviewers who offer thorough critiques of the latest submissions. You can now find a list of the latest Dove Family Approved and Faith Friendly Books for your family to read.
Special Features:
Recently, we added Dove Parenting Blog, focusing on advice from four media savvy blogger moms and a dad, each one representing a unique subject area.

A mother of pre-school and elementary children
A mom raising teenagers and High School-age children
Home School parents
A Video Blog from an entertainment celebrity who offers advice on navigating the challenge of parenting with a busy professional life
We added a special tray "STREAM NOW" which links to Dove Channel, our new streaming movie channel with over 1,400 movies and series, all prescreened and approved by Dove.
Coming in 2017: 
Dove Approved Movie Trailer Section, will be added soon. This will be a special page with access to the video trailers of only Dove-approved movies.
Advanced Search Capabilities will allow you to segment lists into Family-Approved, Faith-Friendly, or Faith Based as well as Approved for All Ages and Approved for Ages 12 and Over.
We continue making improvements to our website and social media sites to provide you with the most relevant and valuable information. Our goal is to ease the stress on caring families who are struggling to find wholesome entertainment options to watch.
If you have other ideas on ways to enhance our website, send your suggestions to: movies@www.dove.org.
Dick Rolfe, CEO – The Dove Foundation