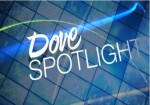 DOVE SPOTLIGHT is a 30-minute Entertainment Review Show produced by The Dove Foundation. The purpose of DOVE SPOTLIGHT is to visually communicate, inform and educate its viewers by analyzing movies, DVDs and gaming releases based on The Dove Foundation criteria and worldview.
The show has a Hollywood-esque look and feel with a dynamic set and two on-camera hosts. The virtual studio "feel" consists of high ceilings with a full psyche wall/green screen for chroma-key shooting for compositing movie clips, staging and other production elements. Seated at two director style chairs flanking a standup height table will be our two hosts.
Rachael Ruiz and Brian Burch are a dad and mom; married, but not to each other. They will provide personal analysis and banter as they critique selected films in a fun, entertaining way.  They will also offer critical gender perspectives important to the viewers so as to appeal to a wider audience.
The show will be divided into four segments; new theatrical releases, DVD releases, technology/gaming, and entertainment news and/or celebrity interviews.
The tech/gaming review segment will be a separate section of the show hosted by Derek Emerson, a young millennial talent.  Derek will share gaming news and the newest technology with a focus on game of the week, content, family-friendliness and other interesting factoids. The tech segment will include graphic elements and/or animated illustrations.
The show will include entertaining bumpers consisting of celebrity interviews, bloopers, the movie archive vault, trivia questions, behind the scenes, etc. All designed to give the audience a pleasurable viewing experiencing so they leave feeling like the hosts are culturally relevant and trusted friends. Viewers should also feel better informed and empowered to make wise entertainment decisions.
DOVE SPOTLIGHT
Broadcast schedule for the Pilot episode
All times EST
Sky Angel (Angel 2 on Channel 266 – Dish Network and IPTV)
Monday, October 5 – 4:30pm

Wednesday, October 7 – 4:30pm

Friday, October 9 – 4:30pm

Saturday, October 10 – 3:30pm

Monday, October 12 – 4:30pm

Wednesday, October 14 – 4:30pm
NRB Network (Channel 378 – DirecTV)
Friday, October 9 – 8:00pm

Friday, October 9 – midnight

Wednesday, October 14 – 7:00pm

Thursday, October 15 – 11:30am
Total Living Network (TLN)
TLN Chicagoland – Comcast Cable Channel 138

KEEN Las Vegas – Channel 17

KTLN Los Angeles – Channel 68, Comcast Cable Channel 25

Affiliates * TLN's Affiliate Stations Group consists of television stations nationwide – full and low-powered, commercial and non-commercial.

Friday, October 9 – 8:30pm

Wednesday, October 14 – 10:00am
Lin Broadcasting, West Michigan
WOTV (ABC-4) Grand Rapids

Saturday, October 10 – 2:30pm

WXSP – Grand Rapids

Sunday, October 11 – 6:00pm
Total reach via television: 40 million households
Internet streaming:
Total reach via web: 6 million unique monthly visitors
---