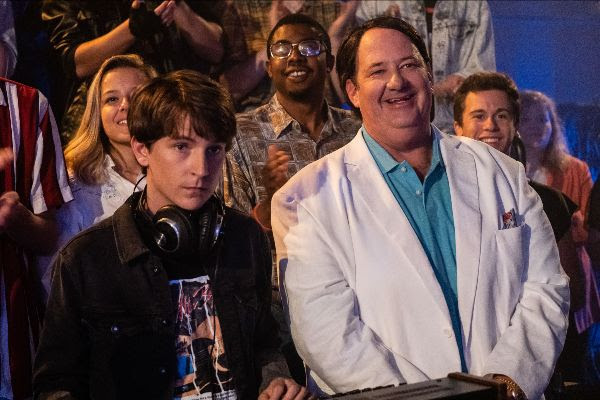 By Jacob Sahms
Electric Jesus serves as a trip down memory lane for both those evangelical Christians who sought to navigate where Christian culture, the church, and rock'n'roll intersected. A fictional story about a band (316) that gets signed by a slick manager and loses sight of itself, it's a modern-day parable about what it means to follow Jesus in a way that authentically lives out who you are and who Jesus is.
The Office's Brian Baumgartner headlines as the bad toupee-wearing band manager Skip Wick, who endears himself to the teenage boys in the band (and their Bible-believing parents) with all the right words but whose tour bus and actions don't match up with the words he speaks. The audience's narration is provided by Andrew Eakle as Eric, the sound guy who the band signs when he knows more about Christian rock'n'roll than they do. He's also a newly-minted Christian with a holier-than-thou attitude toward the things he's afraid don't fit into the Christian life he's supposed to live, or the people who pursue those things.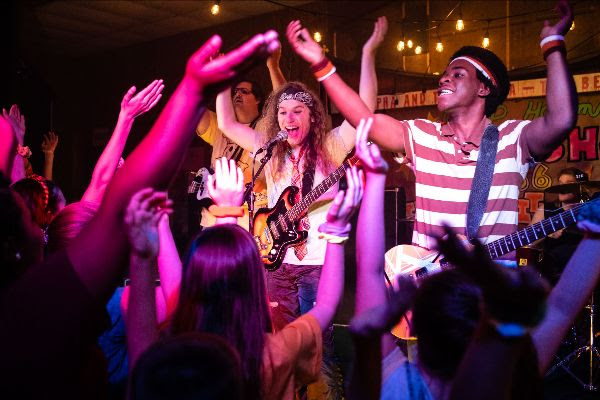 Off on a bus go Wick, Eric, and the band, performing to churches along a route of Wick's choosing. They sing songs like "Commandos for Christ" with lyrics like "It's time to bring in the big guns. A Yahweh M-80 rocket launcher!" and "let's all go commando!" that somehow mesh the humorous lighter touch of director Chris White with the songs of the day by bands like Stryper. The pursuit of glory and music is for Eric all about making Jesus famous, and the pressure is so intense that it threatens to squeeze out all of the joy of just, well, being in a band.
Ultimately, the facade of what is versus what is intended crashes down, and it's not pretty. (For the record, the film does include some rough language, and the nuances about living out one's faith in the real world merit discussion with younger audiences.) But that's what happens when we try to be something we're not, or fake our way into looking like something we want to be. Real, genuine, authentic relationships matter — and that's the lesson Eric learns by the end of the film in a bittersweet way that hurts … while also reminding us it's not too late to change.
Electric Jesus was a fun ride, with a bumpy, emotional landing. But coming of age stories are like that, and Christians need to grow up into adulthood the same way non-Christian teens do. Unfortunately, sometimes we put more pressure on youth in the church rather than walking alongside them lovingly and helping them up when they fall. Maybe it would help if we looked back at our own lives clearly, and recognized the way that Jesus shows up patiently over and over again, loving us in spite of ourselves.
Electric Jesus debuts digitally on November 2.