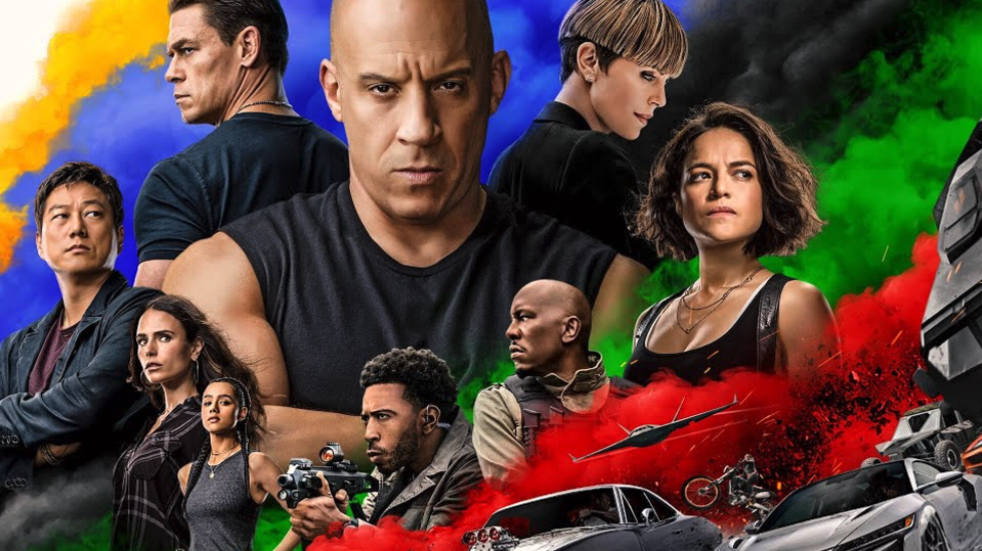 By Jacob Sahms
No one should be surprised at this point to find out that Vin Diesel says he wants the future of the Fast & Furious series to include time travel. They've driven cars out of planes, cars over planes, magnetized vehicles, had the Rock fight Jason Statham, and in the latest, F9, they've had a car strapped to a rocket launch into orbit in space. Seriously. And they've done it as seriously as Doc demanded Marty get into the smoking DeLorean and go "where we don't have roads." Somehow, they've driven the crew from the neighborhoods of Los Angeles into Moonraker territory.
After a flashback to 1989, where Dom Torretto (Vin Diesel) watches his brother contribute to his father's fiery death on a race track, the action jumps to an isolated farm where the Torretto family, including his son by Elena Neves and wife Letty (Michelle Rodriguez), are living off the grid. When Roman (Tyrese Gibson), Tej (Ludacris), and Ramsey (Nathalie Emmanuel) roll up on them, the audience knows the quiet two-year period since Cypher (Charlize Theron) killed Neves has come to an end. The crew gets back together to find out why Mr. Nobody (Kurt Russell) has reached out to for their help. Off they go – and you guessed it – they find themselves in conflict with Torretto's estranged brother Jakob (John Cena), who is a spy/hacker/assassin/evil mastermind with really big biceps.
While the various films have had their moments, F9 aimed for something that had some panache and heart, but it gets sidetracked by the flashbacks that include Vinnie Bennett playing a younger Torretto while Diesel says the lines and Bennett lip syncs .. badly. The story wants the audience to feel connected to the redemptive arc of the Torrettos getting over old hurts and misunderstandings, but it's not really invested in character development – it just wants big meaty men beating on each other and crazy stunts with whacky technology. Sure, Helen Mirren provides some levity, but … it's just not elevated to something that audiences have to sink their brain or teeth into.
In the end, the story wants to wrap it up emotionally with Torretto teaching his young son to pray ("Just say whatever's in your heart") while also leaving it open to something more — remember space travel?  It's too little, too late, and just dwells too much into its own excesses to be recommended as mindless entertainment.