by Edwin L. Carpenter, Senior Reviewer – The Dove Foundation
Mark Knudsen and his son, Daniel, recently teamed up to make "Creed of Gold", a Dove "Family-Approved" movie. Mark wrote the script and helped with on-set support while Daniel directed the film.  Both father and son spoke with us recently by phone.
Dove: How did you become involved in filmmaking and how did the idea originate to make Creed of Gold?
Mark: "It goes back probably ten years ago. It was actually Dan that came to me and he was still kind of a young guy and said, 'You know, we have Christian music and we have Christian politicians but really, we don't have that much Christian media out there. That made me start looking around and thinking about it and doing some research and what we found out is that the average child watches 20,000 hours of media by the time they graduate from high school. To put that in perspective, on average, they spend 11,000 hours in school, 2,000 with parents and only 800 hours in church (if they go an hour a week)."
Mark went on to relate that he and Daniel realized that a lot of Jesus' teaching centered on parables and stories.
"So that made us start to get a vision," said Mark, "for what could be done in this industry." He said they stepped out in faith and made corporate videos and worked toward getting up to a filmmaking level.  Due to the economic hardship of the past few years they decided to examine money and its effect on families and they came up with the plot for the movie. "After a lot of rewrites we came up with the film script for Creed of Gold."
Dove: Daniel, how did you go about casting?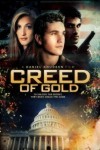 Daniel: "The casting for Creed of Gold was a fun project; it was also a difficult one because we had a lot of great talented people audition for some of these roles. Our principal photography took place in Indianapolis, Indiana. We went out into the local community to find the talent that was already there. We wound up bringing in some other talent as well. We held auditions at a local Christian college called Verity Institute in Indianapolis and we had some connections with that school. They played a key role in helping us accommodate cast and crew. That's how some of the lead actors were connected to Creed of Gold, through that school." Daniel added that they used social media too for the casting project such as Facebook and Twitter.
Dove: What were some of the challenges in getting the movie completed?
Daniel: "The first challenge I would like to talk about is that of finding locations. With Creed of Gold the story follows a number of wealthy bankers so for us it was important that we had the proper production design and locations to match the scope of this narrative. So we had some location scouts that went out and they did a great job of finding some rich, ornate locations. And actually about half of these locations that we filmed at were registered historical landmarks and some were difficult to gain access to but God opened up some really neat locations that looked outstanding through the lens and great on the screen."
Dove: "What were some of your participation efforts in the film, Mark?"
Mark: "I'm a pilot for Delta Airlines by trade and so I was able to take my vacation during the principal photography. I was there on set early mornings and late at night. I don't really have that much film experience, Dan's the one that went to film school and there were a lot of other people involved that had experience that really helped out. Other than that my big role was to write the script. I was a principal writer although the story wasn't all mine, my daughter Kathleen was just brilliant in figuring out how the plot should go. So I would write and she would look at it, and Dan also, and some others were involved in looking at it and would say, 'this part of the story doesn't really sound like something a Christian would do' and we would say, 'Well, hang on, we want to make sure we send a very clear message'".  It was their goal to reach a Christian audience and yet one which would reach a larger cross section and would be a family-friendly film. Daniel added that they have seen a lot of good character-driven films but hope to be unique in making some strong plot-driven movies.
Daniel's background includes film school at Washtenaw Community College in Michigan and he said they have a wonderful program, having recently revamped their digital media arts department. Daniel finished his education at Thomas Edison State College in New Jersey and felt his overall technical education was strong. He regrets his education didn't include classes on the business side of filmmaking which he believes would have been very helpful in making his first film.
Mark added that many big studios often spend half their budget on marketing and advertising while an independent filmmaker often spends the entire budget on the movie and hopes to find distribution funds afterwards.
Dove: We imagine you are getting some good feedback about this movie?
Daniel: "Yeah, we're definitely getting some positive feedback. We're really excited." Although the movie hasn't been released yet Daniel said some influential people have given them nice praise regarding the film.  Mark added that their mission at Crystal Creek Media is to produce films with redemptive messages and to help other filmmakers do the same thing.
This father and son filmmaking duo are well on their way to reaching this mission. Below is a link to their wonderful movie, Creed of Gold.
---
Read Dove's Review of "Creed of Gold"