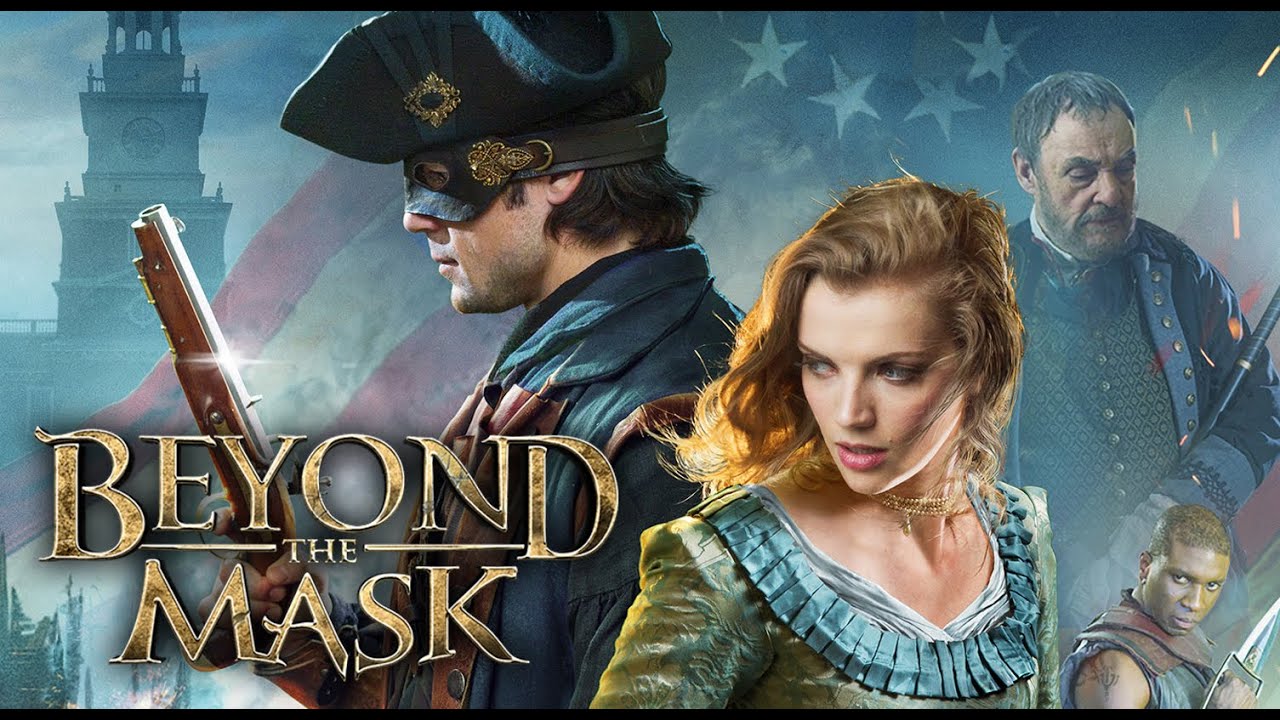 Films that highlight freedom are on our minds at Dove this week. We hope that you'll check them out as you reflect on the freedom that God gives us through Jesus' death on the cross.
Beyond the Mask (2015, Dove Approved 12+)
The film is a rollicking and action-packed film about our country's independence and the people who made it happen. Based on true events, it ends with the signing of the Declaration of Independence but a lot of action, battles, and a little romance lead up to the historic event. The excellent cast features a strong performance by Andrew Cheney as William Reynolds, Kara Killmer as Charlotte Holloway and John Rhys-Davies as Charles Kemp. Reynolds has a violent past, but he winds up as vicar at a church. Charlotte saved his life when she found him nearly drowned in the river after being wounded. He becomes vicar of the church but, although she is drawn to him, Charlotte can tell he seems to be more of an acquaintance of God rather than a true friend.
Watch at Christian Cinema here.
Alone Yet Not Alone (2014, Dove Approved 12+)
The film opens with a calming musical soundtrack and gorgeous landscapes. We learn that the time period is 1755 when America was considered a haven for families seeking freedom to worship in a land of opportunity. Barbara Leininger and her family just moved to Pennsylvania. They have a cabin in the woods and her father often reads from the family Bible. He tells the family that even during tests and trials God will never leave them nor forsake them. As her mother and brother leave on a trip, Indians break in their home with devastating consequences. Barbara and Regina flee to the woods and are soon taken captive by the Indians. The years pass and she grows into a woman but she keeps her faith in God, even witnessing to the Indian brave who wants to be her husband.
Watch at Christian Cinema here.
Freedom (2015, Dove Approved 18+)
Two men separated by 100 years are united in their search for freedom. In 1856 a slave, Samuel Woodward, and his family escape from the Monroe Plantation near Richmond, Virginia. A secret network of ordinary people known as the Underground Railroad guide the family on their journey north to Canada. They are relentlessly pursued by the notorious slave hunter Plimpton. Hunted like a dog and haunted by the unthinkable suffering he and his forbears have endured, Samuel is forced to decide between revenge or freedom. A hundred years earlier in 1748, John Newton, the captain of a slave trader, sails from Africa with a cargo of slaves bound for America. On board is Samuel's great grandfather, whose survival is tied to the fate of Captain Newton. The voyage changes Newton's life forever and he creates a legacy that will inspire Samuel and the lives of millions for generations to come.
Watch at Christian Cinema here.
Unbroken (2014, Not Dove Approved) and Unbroken: Path to Redemption (2018, Dove Approved 12+)
These films chronicle the wartime experiences and post-wartime experiences of Louie Zamperini, an Olympic runner who becomes a POW in a Japanese war camp. His incredible life serves as a backdrop for seeing how God can work in a person's life, through the love of his wife and the words of Billy Graham.
Watch at Christian Cinema here and here.