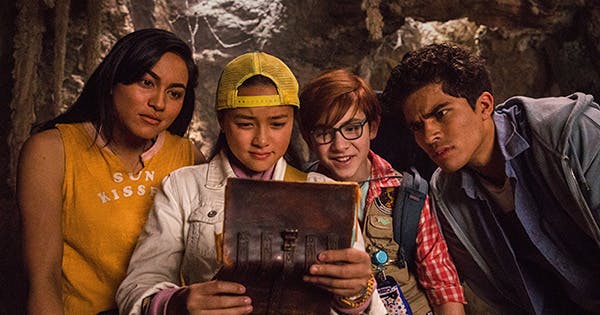 By Jacob Sahms
Pili (Kea Peahu) and her older brother Ioane (Alex Aiono) are typical squabbling siblings in Brooklyn, who find themselves spending the summer on Oahu, when their mother drags them there to check on her ailing father. In a family-friendly film that plays like a deeper version of The Goonies, the two siblings find themselves thrown together with two local teens, Casper (Owen Vaccaro) and Hana (Lindsay Watson). An intrepid geocache explorer at home, Pili discovers a treasure map that she believes will lead her to paying off her grandfather's mounting medical bills, and drags Casper along with her; the older teens follow when they realize the younger ones may be in trouble. Together, they'll laugh, adventure, sing, and learn both about Hawaiian heritage and themselves, in Jude Weng's Netflix adventure Finding 'Ohana.
Together, the foursome took part in a press day interview junket where Dove was able to ask them questions about their experience and the story they were able to tell. First up was Aiono, the Youtuber-turned-Interscope Records artist with nearly a billion views. What was it like tackling a scene where he had to sing with his co-stars… in a cave?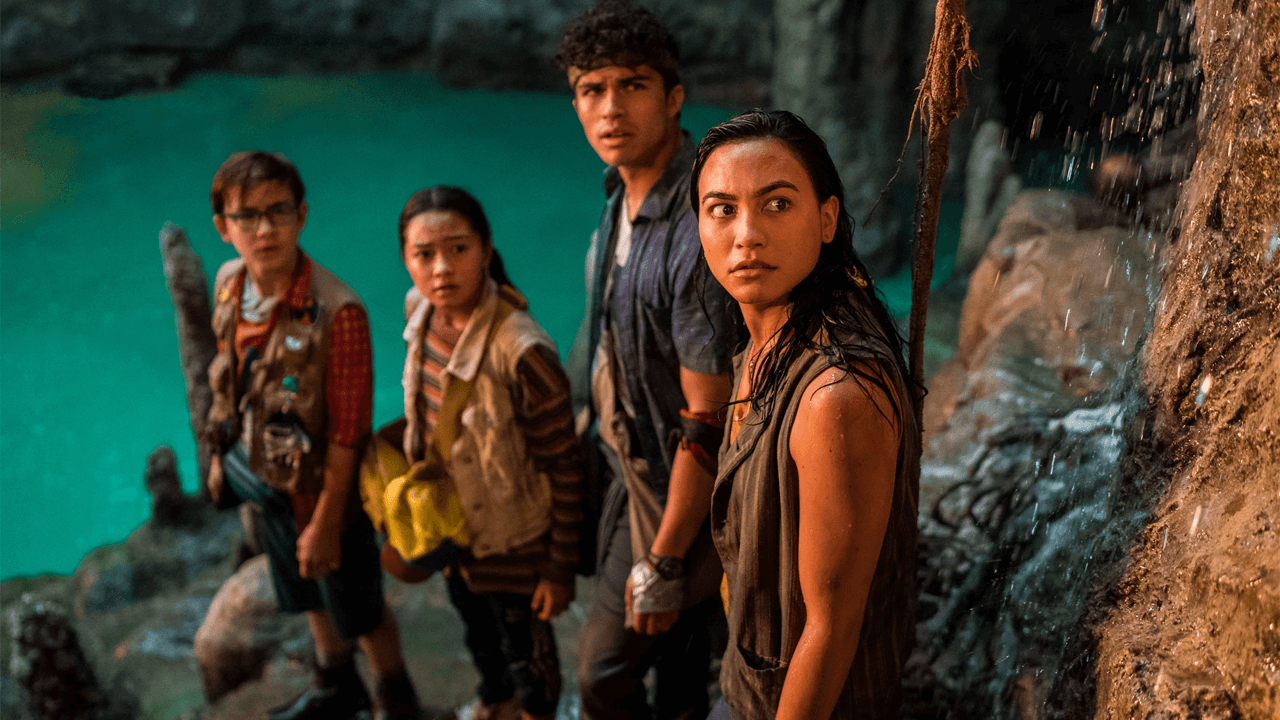 "I can guarantee you that I never believed that it would be in the cards for me – singing in a cave," Aiono admitted, chuckling. "Singing is in my soul, but acting has been such an exciting adventure that I can continue doing. To have a cast around me going from the acting world to the singing world. Jude, our director, had the idea that she wanted us to use the actual audio from in the cave, and not sing over it or over dub it, but to actually sing through the actual emotions we were experiencing."
While Aiono's Ioane falls hard for Hana, she is certainly not immediately interested in him, as she's too focused on her own responsibilities, and the dangers present on their journey. It's a role that Watson gravitated toward because she says it's who she is in real life, too: "I like to think of Hana as the moral compass. From the beginning, she's scared, and she wants to keep the kids safe. She realizes that E puts stress on the kids. She wants to protect them and keep them safe, physically and emotionally. She's educating and teaching Pilli about Hawaiian culture. In real life, I'm the protector. Hana is nice until you cross her!"
When the older actors are asked how they feel about the comparison to The Goonies, they both beam with pride. It's clearly not a stretch to make the jump – and actor Jonathan Ke Quan of The Goonies and Indiana Jones and the Temple of Doom plays a role in the Netflix film. "It's insane to think that movie is thirty years old!" exclaimed Aiono. "A lot of kids don't even know what Goonies is. Getting to bring back to life this type of movie, this style, is an absolute honor."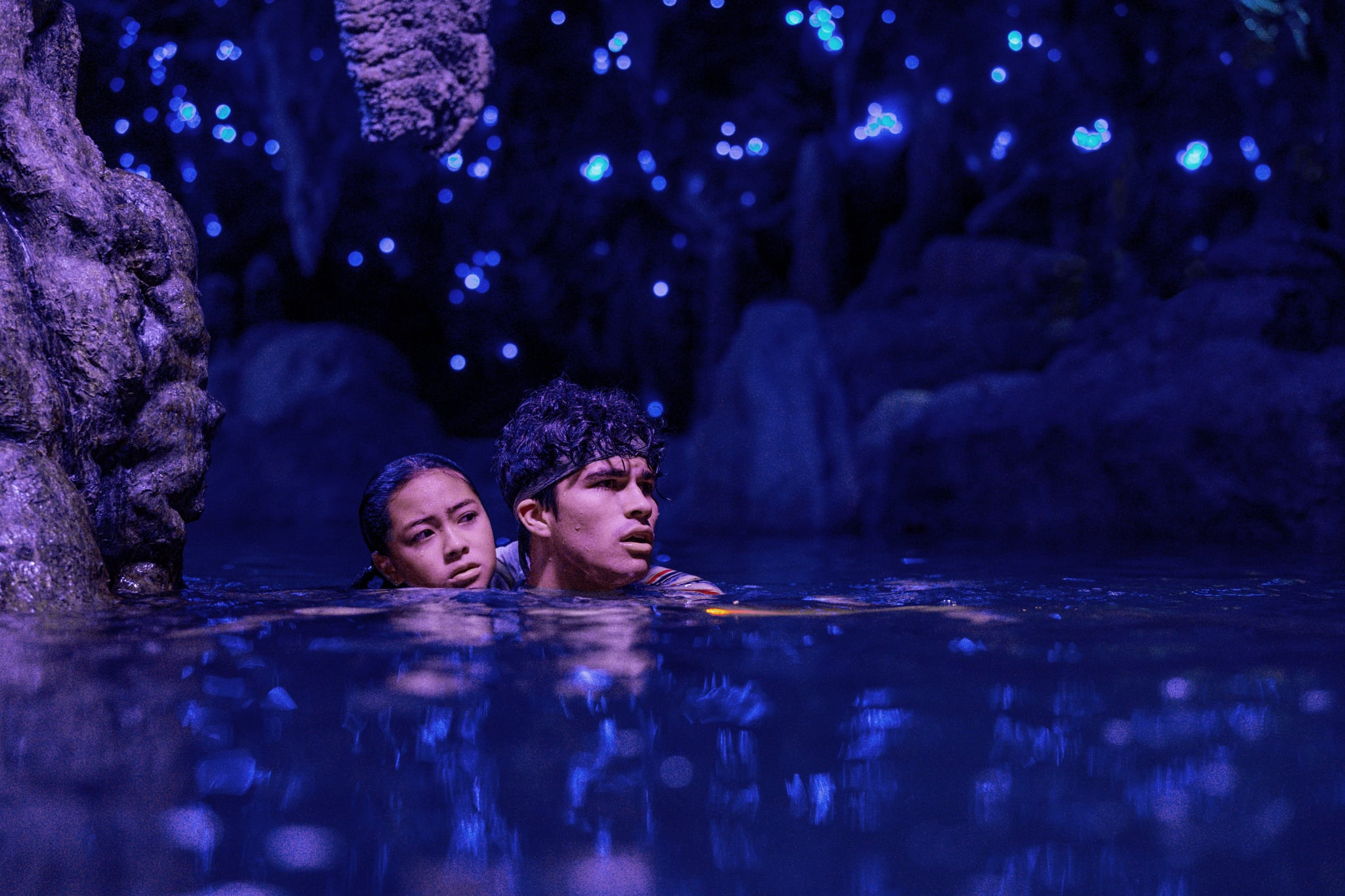 Watson agreed. "Just having the movie associated with our movie is such an honor. I grew up quoting The Goonies my whole life. You get to go through this journey of self-discovery, comparing it to your own life and people can walk away with this discovery of themselves."
With the other two adventurers, Vaccaro and Peahu, the audience will see a familiar face and an absolute newcomer. Vaccaro, a veteran of the Daddy's Home films and The House with a Clock in Its Walls," says that this experience was incredible. Together, he and Peahu tackle funny and serious moments.
"The funny parts are harder to do because the action parts, while we're able to do a lot of them, our stunt doubles did some of them. In the stunts, I felt nerve-wracking, so I didn't have to act as much as I had to in a funny scene. The whole experience was incredible, and it's cool that other kids would be able to look up to me doing these things."
Peahu admitted to a case of nerves before filming started on her first-ever feature, but when the director called "Action!" she was ready to go. "I felt like I was comfortable and could be myself. It amazes me that we could film this movie and then that kids could look up to us; it's just amazing and I'm really grateful."
"I felt like the funny parts were harder to act because I had to hold in my laughter all the way until they called cut!"
Tune into Netflix to check out this beautiful, funny, Hawaiian adventure!