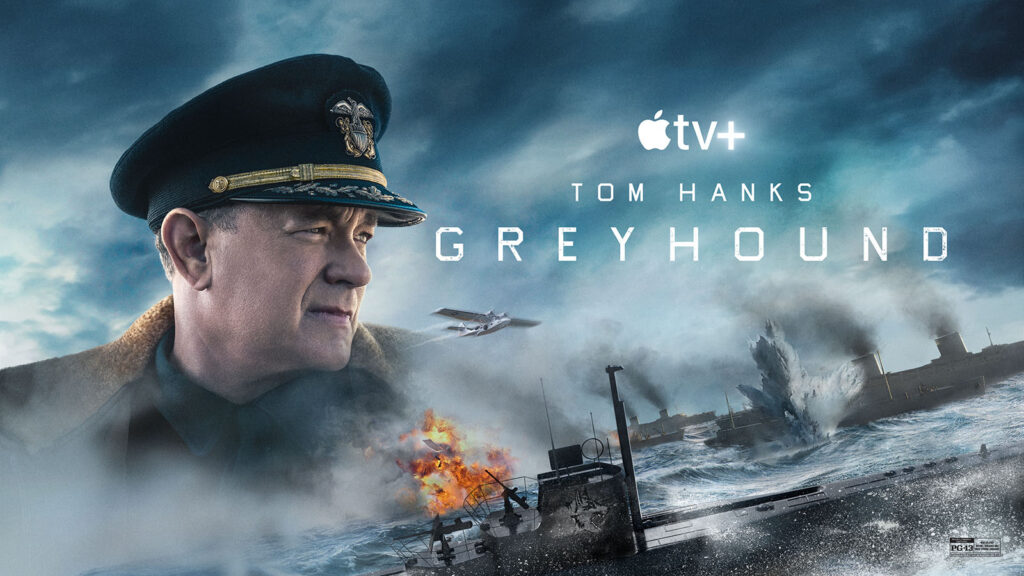 By Jacob Sahms
When we meet Commander Ernest Krause on the Fletcher class destroyer, USS Keeling, he's praying Luther's prayer from the Small Catechism, "Let Your holy angel be with me, that the evil foe may have no power over me. Amen." He's a spiritually deep man who tells a pair of his sailors to repair their broken relationship (they were caught fighting) so that it will give him peace, whose quiet morning blessing over his cup of coffee brings quiet to the galley, whose quotation of Proverbs 3:6 results in a dangerous play to discover a hidden U-boat (against the expectations of his crew on the bridge). Pursued by German U-boats in the midst of the North Atlantic, Krause's faith – and calm – stand between his men and a miserable, watery grave, as he serves as a defender for ships crossing the Atlantic.
Krause is the character first composed by C.S. Forester in his 1955 World War II novel The Good Shepherd, written for screen by the legendary Tom Hanks, and depicted here for AppleTV by Hanks himself. The character isn't the sure strong leader of old school military films but one who second guesses himself in his first major command, who cares deeply about the wellbeing of his men, eschews examining the results of a "kill" for returning to post to protect the convoy, and mourns the passing of souls, even if they're the enemy Krauts he's supposed to be defeating to win the war. Should we be surprised?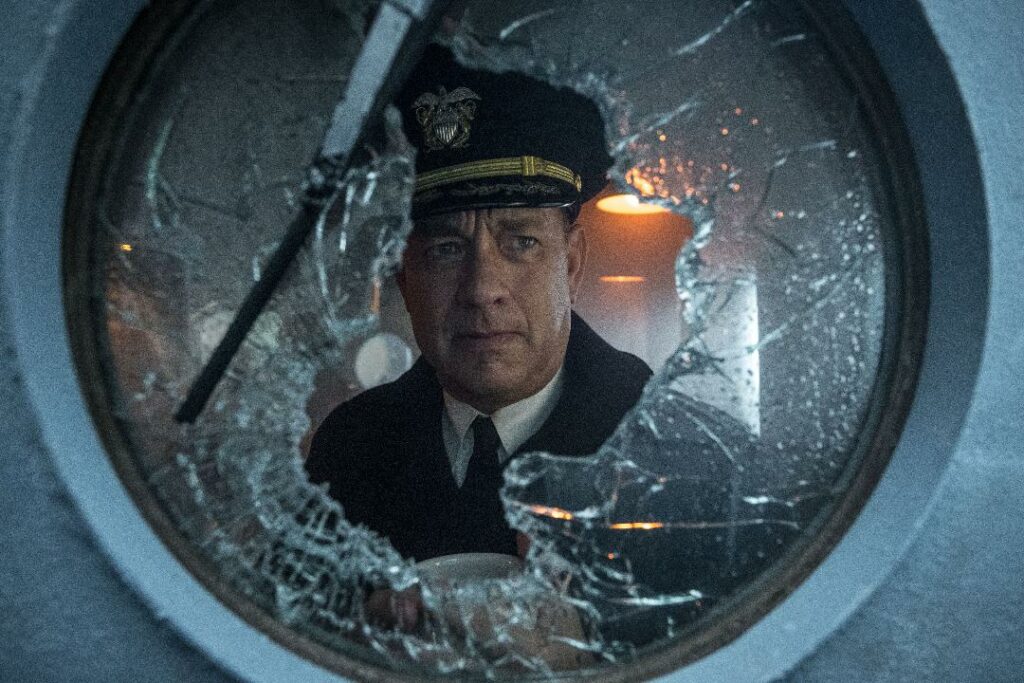 This is Tom Hanks who we're talking about here! Sure, he's America's sweetheart with films like Big and Sleepless in Seattle, but he's held the national spotlight on deep wells of feeling and meaning with films like Philadelphia, The Green Mile, Captain Phillips, Sully, and A Beautiful Day in the Neighborhood. [Even the Toy Story films are not solely laughing matters.] Hanks, who grew up in California with a healthy respect of the Navy as well as a Christian upbringing, surely saw the same elements in the film that make it incredibly captivating, both from an action film perspective and a thinking person's drama.
Filmmaker Aaron Schneider, best known for the Robert Duvall film Get Low about a man who throws his own funeral, shows the audience enough of the sea to understand the tenuous existence of a Naval fleet on the open sea circa World War II, while keeping the mystery of the U-boats tracking the Keeling, call sign "Greyhound," just on the periphery. The sea provides its own character, buffeting the Keeling, while also keeping the commander in question from sleeping. [Schneider, who was second unit on Titanic, clearly knows his way around the water scenes, laying the backdrop for the drama internally and between the characters aboard Greyhound.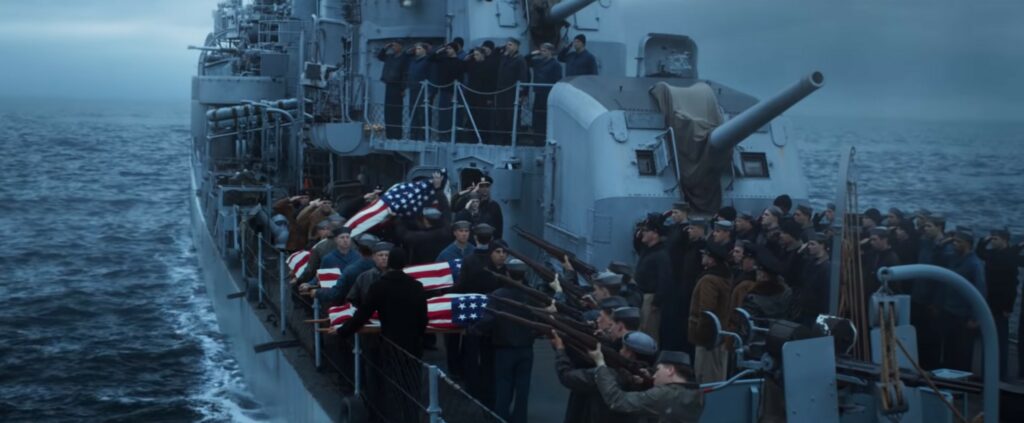 This is not just an action flick though – but a heart-wrenching examination of the wages of war. No scene better captures this and brings it to relevance in the present day as when the crew of the Keeling participates in a funeral for three crewmen killed by an attack. All of the men are afforded Naval last rites, burial at sea, with Krause serving as the priest – including a black messmate named George Cleveland (Rob Morgan) who Krause counted on for nourishment and spiritual accountability. Pre-Civil Rights movement, back in the 1940s, Krause's example shows that all men are created equal, with calling, soul, and worth, intrinsically. Krause's grief here is stunningly powerful, thanks to Hanks' depiction.
Still, for all of its wartime tension, the film's use of Krause's faith captivated me. The dialogue is occasionally Scriptural in nature, as when Krause's best friend and main confidant Charlie Cole (Stephen Graham) warns him that night is coming, by way of John 9:4 (the King James Version), or when Krause tells himself to be as wise as serpents and as harmless as doves (Matthew 10:16). It's not that the Bible is spouted as a weapon, or even that we're told how religious and deeply spiritual Krause and his friend are, but the Scripture serves as a comfort, a steady reminder of the presence of God with them out on the high seas.
In a period where theatrical releases are few and far between, and audiences are unlikely to visit in full force, Greyhound shines as a beautiful story that America's Storyteller has discovered and highlighted so that we might see a story of true faith and service to admire and emulate.
Well done, Mr. Hanks, with the sincere thanks of a grateful nation.