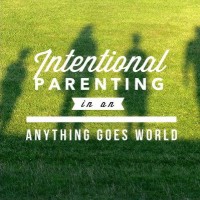 We all wonder what our kids will be like when they grow up.
If they'll have red hair or brown, brown eyes or blue. We dream of world-class pianists, skilled doctors, compassionate parents, compelling writers, and wise lawyers.
But if you dig deeper, what most parents really desire for their kids is less about what they are going to look like or do when they grow up and more about who their kids will be—responsible adults who contribute to the world around them.
How do we guide our kids from innocent newborn to responsible adult?
Our kids spend an incredible amount of time at school, on screens, and in books, and, as they age, an increasing amount of time with friends. And, whether or not we are aware of it, all these things influence who our kids will become.
I believe it is still a parent's job to raise and protect their children, not the school, the screen, friends, or the government. But it doesn't happen without effort or purpose.
So I endure long hours slogging through research to provide my kids with books, aps, and movies I deem appropriate for their tender hearts, minds, and souls. I firmly believe that I was chosen as my child's parent to make decisions that will protect them and teach them to make wise decisions for themselves.
I am an intentional parent. And, unless I miss my guess, so are you. So let's link up and caravan through this crazy adventure together.
The Dove Parenting Blog is a place where we as parents can come to find ideas, encouragement, and a community of like-minded souls.
Whether you're a working parent or stay at home; whether your just starting out as a parent or have a teen; whether those kids attend public school, private school, or are homeschooled; here you'll find parents just like you writing about the issues we all face everyday.
Our passion, like yours, is kids. We love their energy, their enthusiasm, their questions. Plus, kids provide a great excuse to have an enormous batch of cookies in the kitchen without looking like a pig.
Anytime throughout the journey, feel free to email us and let us know what's happening in your life. In fact, take a minute and say hello. Tell us about your kids, your frustrations, your successes.
We look forward to hanging out with you, putting our heads together, and raising our kids to be well-adjusted adults who grow little-by-little into purposeful adults.