by Edwin L. Carpenter, Senior Film Reviewer, The Dove Foundation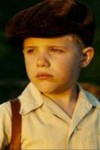 Jakob Salvati is a terrific and talented young man. He has appeared in the TV series Grimm and Cleaners and already has a lot of credits under his belt for someone under ten! He gives an outstanding performance as Pepper Flynt Busbee in the upcoming April 24 release of Little Boy. The movie also features Emily Watson, Tom Wilkinson and Kevin James. It is a World War ll story but more than that it is the story of a little boy that had faith for his father to return home from the war. Jakob spoke with us recently about the upcoming release of the film.
Dove: Jakob, tells us about the movie.
Jakob: "Well, Pepper Flynt Busbee is very close to his father and his father has to go to war. So, one of the most devastating parts in the movie is the bus coming to pick up his dad, because his dad is so close to him. They imagine and they play together and they hang out together, they drink sodas together, they do everything together—everything a normal dad would do that wants to have fun with his son. When his dad leaves for war, Pepper tries everything in his power to get his dad back, through faith.
Dove: So, faith is the theme of the movie?
Jakob: "Yes, faith of a mustard seed."
Dove: How many films have you been in before, Jakob?
Jakob: "I don't know the number but I know I have been in quite a few."
Dove: Was making this movie different than the other ones you have been in?
Jakob: "Yes, very much so because some of those other movies were not including God that much. So I'm thinking the more movies I do, the more I'll include God in it, like I'll preach on the set to the crew."
Dove: So God is very important to you?
Jakob: "Yes."
Dove: What was auditioning like for this movie?
Jakob: "I actually went through nine auditions to get this movie. They gave me one of the hardest scenes for the ninth audition. It was the funeral scene, and that's one of the most devastating parts in the whole movie. When I came out of the audition, they were all crying– and that's when they thought to each other, 'He's the kid!'"
Dove: So if there was one thing that you would want someone to take away from the film when they saw it, what would that be?
Jakob: (pausing for a moment to consider the question): "I would want them to go home from the movie thinking that we want to be the best people we can be. We want to be the best form of ourselves we can be."
Dove: So did you enjoy yourself making this movie?
Jakob: "Yes, very much. "
Dove: Were there some difficult things you had to do making the movie?
Jakob: "There were actually tons of hard things. This was my first role as a lead. And the first day I was there I actually cried because the crew was yelling at each other. So Alejandro Monteverde (the Director) and Eduardo Verastegui (Father Crispin in the movie), they talked and they helped me through it by giving me toys from every scene I did. Then I said, 'How about my brother?' and they said 'Okay, we'll get your brother toys too!' And then I was like, 'what about that kid over there?!' And they were like, 'No, no, no, no, no! Let's just stay with you and your brother!'"
Dove: So, aside from the toys, what was the most fun you had?
Jakob: "I would say the people, the cast and Alejandro himself. He was a very good friend—he is a very good friend. Our friendship will always last forever. I think that's one of the main things we said together when we were doing our scenes and, just him understanding me and me understanding him. That was one of the most important parts of our friendship."
Dove: What audience do you think the movie is intended for?
Jakob: "I think every single audience."
Jakob explained that the themes are universal themes that people will relate to, such as a family member going off to war. "It will move them, it will rock them back and forth," he said.
Dove: Is there anything else you want the audience to know about the movie?
Jakob: "I think when they leave, they should try to make their own list, and they'll know what I mean after they see the movie. I think they should make their own list and try to achieve the things in that list every single day of their life."
This movie starring Jakob Salvati, Little Boy, has earned five Doves from us, our highest rating.
Read Dove's Review of "Little Boy"